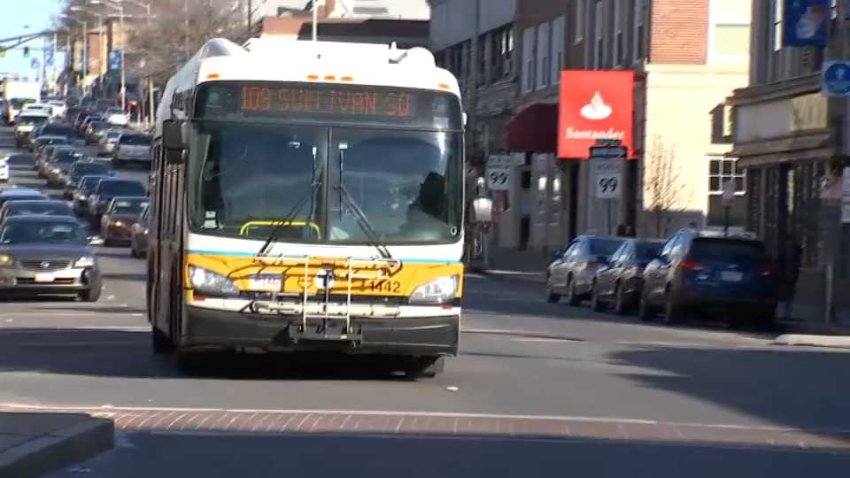 Suffolk District Attorney Rachael Rollins announced Monday that she has opened a criminal investigation into the actions of a former MBTA transit police officer who resigned amid allegations that he dragged a Black man off a bus, kneeled on his back and pushed his face into the ground.
According to the Boston Globe, Officer Nicholas Morrissey resigned late last month rather than face termination proceedings in connection with the incident at Forest Hills train station, the Globe reported, citing police documents and a person with knowledge of the situation.
"Although it is unusual for my office to comment on ongoing investigations, the behaviors of law enforcement personnel must be held to a higher standard and require transparency,'' Rollins said in a statement. "I want to thank and highly commend the leadership of the MBTA Police for bringing this matter to my office. Without their coming forward, we would not have been made aware of Morrissey's concerning behavior. This type of leadership by law enforcement management must be commended and should be emulated."
Transit Police Superintendent Richard Sullivan told the Globe "quick decisive action" was taken and that the officer was no longer a member of the transit police, without elaborating. The paper reported Morrissey's supervisor had been suspended as well, citing a source.
The incident occurred on April 28 when Morrissey was called to Forest Hills station around 3:45 p.m. for a report of a drunk man refusing to leave a bus, the Globe said, citing police documents.
The district attorney's office said Morrissey allegedly dragged "a homeless, intoxicated man" from the bus and forcibly held the 63-year-old man face down with a knee on his back for 20 seconds, pushed his head into the pavement and later dragged him out of the bus lane.
Local
In-depth news coverage of the Greater Boston Area.
The man, who the district attorney's office said is known to MBTA police, suffered abrasions to his face.
Morrissey later filed a report on the incident alleging that the man "lost his balance" while attempting to spit at him. Morrissey said he grabbed the man by the shoulders and redirected him before the man fell through the bus door and hit his forehead on the pavement. The district attorney's office said his report is "not consistent" with video of the interaction.
"I have said many times, the vast majority of police officers are dedicated public servants who work honorably and diligently to keep us all safe," Rollins said. "Public employees, however are held to a higher standard, especially those charged with keeping the public and our communities safe."