The Massachusetts Bay Transportation Authority will shut down segments of key lines during weekends this fall to repair the aging system, which has been under scrutiny following a series of derailments this summer, under plans announced Monday.
Under the plan, the MBTA will shut down more than a dozen stations on the Orange, Red and Green lines during weekends from October to December. (See a full list at the bottom of this story.)
MBTA officials presented the plan to board members at a public meeting Monday, and it was approved by the Fiscal and Management Control Board.
"This will improve the experience and the reliability for our customers," MBTA General Manager Steve Poftak said.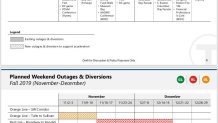 The plan will close Orange Line stations from Tufts Medical Center to Sullivan Square from October into November; Red Line stations from Broadway to Kendall Square from November into December and the Green Line's B, C and D branches during the fall.
Shuttle buses will be offered as a substitute for commuters during the repairs, though commuter Nekeyla Falaise said Monday morning that she's taken shuttle buses on the weekend and that they get crowded.
Local
In-depth news coverage of the Greater Boston Area.
"If I have weekend classes, it's going to be very hard," Falaise said.
Rider William Zaniboni hadn't realized the stations would be shut down.
"I ride the T every day, so now I have to take shuttle buses, is what you're saying, on weekends? That kind of stinks," he said.
"I do take the T on the weekends because I work in the city on weekends," Allie Mitropoulos said. "So it'll be really annoying, especially if the weather's bad."
"It's been harder. It definitely doubled my commute since the derailment," said Red Line rider Elizabeth Kirkeeng. "It takes me a lot longer to get to work. We're stuck at stops all the time."
"Riders deserve a reliable, safe transportation system and while we understand this accelerated plan will be inconvenient for some riders, we believe these temporary diversions are necessary to improve the system that has been neglected for decades," Gov. Charlie Baker said in a statement. "The MBTA will continue to evaluate upcoming planned projects for this fall and next year for additional opportunities to accelerate work where possible."
Here is a full list of closures:
GREEN LINE:
-D branch shutdowns are already scheduled for the weekends of September 14-15, September 21-22, September 28-29, October 5-6, October 12-13, October 26-27, November 2-3, November 9-10, November 16-17, November 23-24, December 7-8, December 14-15, December 21-22, and December 28-29.
-Three new weekend closures on the Green Line B branch will take place during the weekends of September 7-8, November 2-3, and November 23-24.-One new weekend closure on the Green Line C branch will take place on October 26-27.
ORANGE LINE:
-Six new weekend diversions will take place between Tufts Medical Center and Sullivan Square on October 5-6, October 12-13, October 19-20, October 26-27, November 2-3, and November 9-10.
RED LINE:
-Four new weekend diversions will take place between Kendall/MIT and Broadway on November 16-17, November 23-24, December 7-8, and December 14-15.