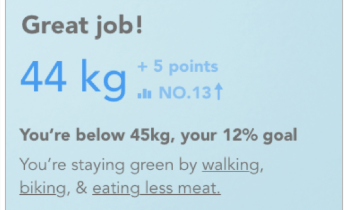 We live in a golden age where apps can turn our phones into fake devices like electric razors, fan coolers and underwear color detectors (yes, your read that right). Thankfully for all of us, there are also apps with more idealistic goals, and definitely a deep awareness of the world outside phone screens—and Harvard-born Joro is among the latter.
Incubated at HBS's Arthur Rock Center for Entrepreneurship, Joro is a mobile app that helps users track their carbon emissions linked to travel, purchases and daily lifestyle, with the final goal of reducing users' negative impact on the environment.
Carbon emissions, or the carbon dioxide that planes, cars, factories and human beings produce, have been on a steady ascending curve since 1900; since 1970, CO2 emissions have increased by about 90%, with U.S. and China as top carbon dioxide emitters.
Local
In-depth news coverage of the Greater Boston Area.
Not fully aware of this scenario at the beginning of her entrepreneurial journey, Joro CEO and co-founder Sanchali Pal realized she wanted to do something about sustainability after watching the documentary Food, Inc.
"Sustainability is a very vague word, but carbon emission is a very precise metric."
"Sustainability is a very vague word, but carbon emission is a very precise metric," Pal, now a recent graduate from Harvard Business School, said. "If everyone [tracked his or her emissions], the world would be better."
But how to convince people to change their habits and opt for a more environmental-friendly lifestyle? Pal, who got advice from Boston-based community apps like Runkeeper and Lose It!, realized that people are more likely to stick with habits if friends help them, and they like to discover things from friends; which is why Joro is not only a tracker, but a community. Not a wearable device, though.
Joro dubbed itself as "the Fitbit for carbon emissions" meaning that its software is similar to Fitbit's, which tracks fitness metrics thanks to its signature device.
Currently, Joro is a mobile and a web app. Here, users can input data about what they eat, how they travel, what they purchase. Then, the system calculates their "carbon score" and provides advice (through visual alerts) on how to reduce carbon footprints. Also, users can create or join public or private communities of friends or co-workers; the goal is comparing scores and incentivizing competition.
Joro raised a total of $35,000 in non-diluted funding and it's now raising a pre-seed round.
The list of startup competitions it won goes on and on: first place in the Improved Energy Efficiency track at the MIT Clean Energy Competition, recipient of the Dow Sustainability award at the MIT IDEAS Global Challenge and one of four 2017 regional winners at Cleantech Open Northeast. Based at the Harvard ilab, the company has a team of two co-founders and one software lead.
In case you're wondering: in Norwegian, Joro means "Mother Earth," the primary beneficiary of the efforts of Joro users.
Copyright Boston - BostInno