The teacher's union and school committee in Melrose, Massachusetts, reached a tentative agreement late Saturday night, just days before the teachers' planned strike on Tuesday.
The contract includes cost of living and market adjustments totaling 10% over the three-year term, translating to a significant wage increase for educators in the district, according to Melrose Public Schools.
The contract also provides teachers with more planning time, which the district says will "enable Melrose to recruit and retain high-quality educators who serve all students," administrators said in a statement.
The contract's terms are retroactive as well, with adjustments starting from July 1, 2022, through June 30, 2025.
"The Melrose Education Association (MEA) extends our sincere thanks to everyone who supported us as we worked to reach a tentative agreement with the Melrose School Committee that meets the needs of our members, our students, our families, and our community," said MEA President Lisa Donovan in a joint statement with the Melrose School Committee. "We are especially proud of the Melrose educators who so eloquently and passionately fought for the schools that our Melrose community deserves."
"I believe that this contract shows our dedication to both the interests of the community and the commitment of our hard-working teachers," said School Committee Chair Margaret Driscoll in a statement. "We look forward to the MEA's continued partnership in support of students, as we continue the tradition of excellent education provided to all students in Melrose."
Superintendent of Schools Julie Kukenberger shared her thoughts as well in the joint statement.
"This contract not only provides our dedicated teachers with the compensation they deserve, it also provides them with more preparation time to support thoughtful and engaging lessons designed for our students in personalized and individualized ways," said Kukenberger. "A strong, competitive salary schedule will help the district retain our amazing educators and fill critical positions needed to better serve our students."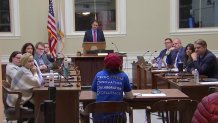 The looming strike came after nearly a year of failed negotiations, several protests and after teachers in Melrose took a vote of "No Confidence" in the city's mayor and school committee.
Local
In-depth news coverage of the Greater Boston Area.
"As mayor of a community I love, and as a graduate of Melrose High School, I'm proud that the city was able to make a significant investment in our students, educators and school district," said Mayor Paul Brodeur. "I'm grateful for the hard work of our bargaining team, including my colleagues on the School Committee and the Superintendent, and for the collaboration of the MEA team."
"Our demands have been the same since the start of this," said Donovan during protests, before the agreement was reached. "We want fair compensation that is comparable to to surrounding districts; that will attract and retain quality educators. And we want time. Time to be able to prepare engaging and meaningful lessons for our students."