High pressure - meteorology speak for a fair weather system - is in charge of New England on Thursday. And while this means a winter chill in the air, it also means sunshine and dry weather, making this a great day for travel.
Most of the nation is in great shape for traveling Thursday, with Denver the only major airport seeing a bit of light snow, and it's nothing they can't handle in the Rockies.
2 Chances for Snow Over the Holiday Weekend
Some snow showers in the Great Lakes represent the next energetic disturbance that will dig into New England Friday into the weekend.
Snow breaks out from west to east Friday morning, mostly near and north of the Massachusetts Turnpike and through Central and Northern New England, continuing to intensify through midday into the afternoon.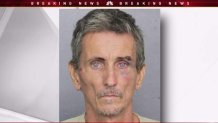 Farther south, mostly lighter, mixed precipitation of rain, freezing rain and snow is expected Friday.
By Friday night, most of Southern New England will begin a transition to rain and freezing rain, with the interior last to change and North-Central Massachusetts points north and west likely to see continued icing from freezing rain into Saturday morning, while spots farther south and east see mostly plain rain by then.
The mountains should see one last gasp of snow late Saturday before clearing Saturday night and a good day for travel Sunday.
Local
In-depth news coverage of the Greater Boston Area.
Overnight Sunday into Christmas morning, our next storm moves through, dropping snow for many, though a rain/snow line may set up in southeast Massachusetts.
To be determined on the placement of rain/snow line and amounts, but it's a strong likelihood that many New Englanders wake up to fresh snow Christmas morning, tapering by late morning or midday.
Thereafter, cold air unloads on New England in the exclusive Early Warning Weather 10-day forecast.
[NATL] The Worst Northeast Snowstorms of the Last 25 Years