"Mighty Quinn" had a mighty good day on Sunday! The 3-year-old boy, who has captured hearts across Massachusetts, was finally able to leave his house after spending months in isolation.
Quinn Waters had been unable to leave his Weymouth home after treatment for brain cancer left him with a weakened immune system. During his time at home, he received countless visitors to his window, affectionally dubbed his "Quinn-dow," including singing police officers, the Dropkick Murphys, Wally from the Boston Red Sox, Charlie Coyle from the Boston Bruins, superheroes, the Black Dog, and Woody from Toy Story.
Quinn even got a video message from Tom Brady!
"Our fantastic friends, family and community have made Quinn's months of isolation very very special," his dad, Jarlath Waters, said on Facebook. "Quinn's still got a long road ahead but he is healthy enough to come out of the house in small doses. Something we all take for granted. Feeling the grass or the sand beneath your toes...[it] will be a very special day for our little super hero."
The family closed down the "Quinn-dow" because of the strides Quinn has made in his recovery, including having his PICC Line removed — marking the first time since February 11 that he has not had a central line or IV attached to him.
For his first outing on Sunday, Quinn chose to feel the sand beneath his toes, visiting Nantasket Beach with his family. His dad says he absolutely loved it, sharing pictures to prove it.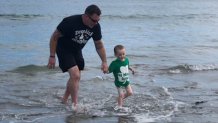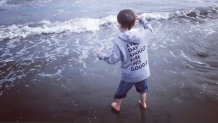 Quinnie was diagnosed with a brain tumor on his brain stem, more commonly known as Medulloblastoma, shortly after celebrating his third birthday in February. His family created a Facebook page to update friends and family about his progress and to bring awareness about childhood cancer.