What to Know
A mild midweek gives way to a First Alert on Friday
Temperatures in the 40s on Tuesday and Wednesday
A storm moves in late Thursday bringing moderate to heavy rain in southern New England, snow in northern New England and a sleet-snow mix in the Merrimack Valley
New England is enjoying a break in the weather for a couple of days that delivers a return of sunshine to the region and a response from temperatures, rising to 45 to 50 degrees for afternoon highs. But we're already eyeing a First Alert for Friday, where another system could drop snow and rain on New England.
Tuesday's weather, of course, started with patchy ice from a sub-freezing start melts off quickly and turns to a combination of puddles and road spray under sunshine, resulting in areas of glare for drivers until clouds start increasing to dim the sunshine during the afternoon.
Those increasing clouds come ahead of a weakening storm center drifting east from the Upper Great Lakes across Ontario, delivering scattered showers to New England from Tuesday at dinnertime through the night into Wednesday morning. Most of these showers will be light and most will be raindrops, though some freezing rain and snow will mix in across the northern half of New England, where some slick spots are possible.
Of course, with sprinkles and showers floating around the first half of Wednesday, clouds will be abundant, but breaks of sun are possible during the afternoon and highs will reach well into the 40s for most of New England, continuing a melting of the recent snow.
A weak but important cold front eases from northwest to southeast across New England Wednesday afternoon and evening, opening the door to a subtle shot of cooler air that will be in place Thursday.
Local
In-depth news coverage of the Greater Boston Area.
The next storm that will take aim on New England was the recent final storm in the parade of California storms, re-organizing over the Central Plains on Wednesday with severe weather possible in the Southeast, then heading northeast into the eastern Great Lakes before re-developing near Long Island Thursday evening and passing near or over Cape Cod Thursday night.
How much snow will Mass. get on Friday?
Even with the fresh shot of cool air in place for New England, this track doesn't favor a lot of snow for southern New England, so rain is expected to develop Thursday late day or evening and last to Friday morning, but enough lingering cool air in central and northern New England sets up a snowier potential.
In fact, there may be a very tight rain/snow line setting up Thursday night somewhere on either side of the New Hampshire and Vermont border with Massachusetts, delivering several inches of snow to the north of that line and mostly rain to the south until the storm center starts moving offshore and encourages a northerly wind to draw colder air south Friday morning, in turn drawing the rain/snow line south. At that point, it becomes a question of how much precipitation is left to fall Friday, with lingering energy aloft but the surface storm skirting east and away from New England.
Nonetheless, there is the potential for at least some accumulation Friday near and north of the Massachusetts Turnpike, so our First Alert weather team will be working hard to nail down the movement of the rain/snow line and bundles of lingering precipitation Friday.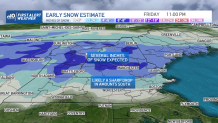 Saturday may bring a morning snow shower, particularly near the coast with a northeast wind across the ocean. Otherwise, the weekend doesn't look spectacular but should feature cool conditions with no big storms.
Later Sunday, mild air drawn north ahead of a strengthening storm over the Great Lakes will deliver clouds and a chance of late-day showers that may start as snow in the mountains Sunday evening, then change to rain before exiting Monday.
Our exclusive First Alert 10-day continues to show no big bouts of significant winter cold.