Soak in the sun & the mild temperatures this weekend. A high pressure system is anchored to our south and west and it keeps us with a shining sun and a northwest flow that allows us to warm up to the 70s.
Sunday's temperatures won't change too much as they'll stay in the 70s with a couple degrees warmer in parts of western MA and CT.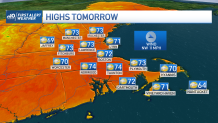 Meanwhile, an approaching warm front will produce showers Sunday night followed by warm and dry conditions Monday. Temperatures Monday will be influenced by the passage of such warm front and will again top out in the 70s along mostly sunny skies.
Low pressure will then nudge south of New England on Tuesday and will provide more clouds, the switch to an onshore flow and cooler temperatures along the coast with highs in the 60s.
Dry conditions will remain through Wednesday after the departing low but temperatures remain cool along the coast until the second half of the week opens the door to milder temperatures rebounding to the 70s.