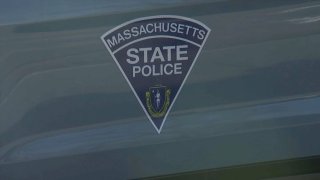 A 5-year-old boy from Oakham, Massachusetts, who wandered nearly three miles away from his family's home with his dog on Monday, was found safe by police officers, officials said.
The Worcester County District Attorney's Office said Oakham police and state police were able to locate Owen Goderre following a search in the area that lasted around two hours.
Owen, who has autism and is non-verbal, was reported missing to the Oakham Police Department around 10:45 a.m., the DA's office said. The boy was believed to have walked away from his home with his dog Tika, a black and white pit bull/heeler mix.
Oakham police immediately began searching and called for assistance from state police, who brought the special emergency response team (SERT), a helicopter, a state police dog, a Central Massachusetts Law Enforcement Council dog, detectives from the district attorney's office, and the Central Mass. search and rescue.
Around 12:45 p.m., SERT troopers found Owen and his dog along the power lines near Coldbrook Road that cut through the forest in Oakham, the district attorney said.
"We appreciate the work of Oakham Police and Fire Departments and all of the Massachusetts State Police assets to bring Owen home safely," DA Joseph Early said in a staement. "Their coordinated efforts helped quickly locate Owen and his dog and reunite him with his family."
Oakham police chief Frederick Gehring told the Boston Globe that the boy was in good spirits after walking around 2.5 miles in a wooded area with trails near the Quabbin Reservoir Watershed.
Local
In-depth news coverage of the Greater Boston Area.
Owen was evaluated by the Oakham Fire Department, and neither he nor his dog had any injuries, police said. He was later reunited with his parents.
"I'm just glad it ended in a happy way," Gehring told the Globe in a phone interview.