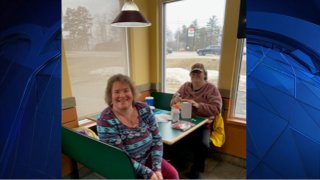 Two Maine women who had been missing since Tuesday after getting lost while trying to drive home have been safely located, police said Sunday night.
Topsham police shared a picture on their Facebook page, writing that it's with great pleasure they announce the successful conclusion to their search for 51-year-old Kimberly Pushard and 50-year-old Angela Bussell.
The pair, both from Topsham, was located near Nicatous Lake in East Hancock, Maine, police said.
Pushard and Bussell were awaiting medical services after being found, police said, adding that more information will be released as it becomes available.
Police thanked everyone who assisted in the department's search efforts. The Maine Department of Public Safety also said it appreciated everyone who helped get the word out.
State police in both New Hampshire and Maine had issued alerts seeking help finding the pair after they were originally reported missing by police in their hometown of Topsham around 12:30 a.m. Wednesday.
Their families had said they were attempting to drive to the Maine Mall on Tuesday, possible to go bowling, but they got lost and wound up in Massachusetts and then NH. According to their families, Pushard and Bussell are intellectually disabled, easily disoriented, have trouble processing information and are prone to being confused by directions.
Local
In-depth news coverage of the Greater Boston Area.
Topsham Police Chief Marc Hagan provided an update on the search Friday, saying their last known location was at an Irving gas station on Route 6 in Springfield, Maine, about 50 miles from the Canadian border, around 10 a.m. Wednesday, where Pushard was seen on surveillance video. They reportedly bought about $25 in gas and asked the gas station clerk for directions back to Interstate 95 south.
Prior to stopping in Springfield, the two women reportedly ran out of gas in Lincoln. Someone stopped to help them and brought them to a gas station.
Hagan had said Friday that both women take medication for high blood pressure and they didn't have their medication with them. He said the families of both women were very concerned, and noted it was "completely out of the ordinary" for them to go on trips.
No other information was immediately available Sunday about how they were tracked down, or how they were doing.