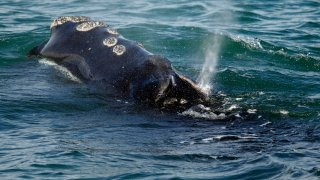 Another slow zone has been added south of Martha's Vineyard due to the presence of North Atlantic right whales, which analysts say are one of the rarest marine mammals in the world.
NOAA reported Monday that a New England Aquarium aerial survey team on Friday detected the presence of right whales south of the Vineyard. Teams also redetected the presence of right whales south and southeast of Nantucket. All of the right whale slow zones are in effect through March 25.
The areas are the subject of potentially competing policies governing fishing and maritime industry regulation, the establishment of offshore wind energy turbines, and protection of the endangered whales. Under the voluntary slow zones, mariners are requested to avoid the areas or transit at 10 knots or less.
"North Atlantic right whales are on the move along the Atlantic coast of the U.S. If seen, remember that approaching a right whale closer than 500 yards is a violation of federal and state law," NOAA reported.
Right whales are protected under the U.S. Endangered Species Act and the Marine Mammal Protection Act, and scientists estimate there are fewer than 350 right whales remaining.
Starting on Tuesday and for the rest of the week, the vessel Flintstone plans to place a filter layer of stone consisting of one- to three-inch stones at 17 locations where Vineyard Wind project turbines will be installed.
The energy project managers say that until the areas are marked on the NOAA chart and the wind turbine foundations are installed later in 2023 it is recommended that the area be avoided by any vessels dragging gear on the bottom, and there will be no surface marking of the "scour protection locations."
The vessels Fleet Kind and Torbay are scheduled to remain on site, weather permitting, to assist mariners navigating near the wind project work areas.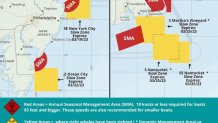 Copyright State House News Service