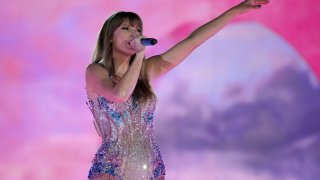 After a first round of commuter rail tickets to the Taylor Swift concert at Gillette Stadium sold out last week, the MBTA announced Tuesday they will sell a limited number of additional tickets.
The trains will run out of South Station and Providence to Swift's Eras Tour on May 19-21 at Gillette Stadium in Foxboro. Tickets cost $20 for a round trip. A first round of tickets sold out quickly, with some fans saying they woke up specifically to order them and found them already gone. The Swifties then took to social media asking the MBTA and Keolis to add additional trains.
The agency must not have wanted bad blood because they responded, announcing that there would be a limited number of additional tickets going on sale Friday, May 12 at 11 a.m. but only for the shows on Saturday, May 20 and Sunday, May 21. Fans can buy the tickets on the mTicket app. Regular weekend passes cannot be used on event trains. Learn more here.
The Eras tour is one of the largest and most sought-after concert tours in history.