Nearly 500,000 people were without power in Massachusetts early Wednesday afternoon as a nor'easter slammed the region with downpours and punishing wind, leaving a clean-up job that could take days.
Power outages drastically increased throughout the course of Wednesday morning. The number of people who lost power tripled in under two hours -- jumping from 135,229 at 4 a.m. to 407,535 by 6:30 a.m.
A total of 372,190 people statewide were without power just before midnight, down about 120,000 from eight hours earlier.
Utilities reported about 90,000 customers without power in Rhode Island, 17,000 in Maine, 15,000 in Connecticut and 6,000 in New Hampshire.
Power restoration is expected to take some time, as bucket trucks weren't able to be deployed in some places Wednesday afternoon.
"In some cases they do need to wait until the winds come down before it's really going to be safe to get up into a bucket truck," Massachusetts Gov. Charlie Baker said.
Officials said sustained winds needed to be below 30 mph for that to happen, but gusts of up to 65 mph were still expected on the South Shore and the Cape into the evening.
Baker, who had wiped the scheduled events off his calendar Wednesday, met with his administration's emergency response and public safety officials to discuss storm impacts and response efforts.
He said his administration is working with the utility companies to speed up recovery times, but the damage was still being assessed.
As people looked to make plans to deal with power outages, a Red Cross shelter was opened at Weymouth High School. The agency said it was offering help to anyone whose home was damaged -- its 24-hour hotline is 1-800-564-1234.
At the height of the storm, wind gusts reached nearly 100 mph. The wind is expected to die down as the morning progresses, but it was still gusting around 70 mph on the outer Cape early Wednesday morning.
The National Weather Service urged people not to travel, characterizing the conditions as "dangerous," with winds gusting over hurricane force across southeastern Massachusetts.
The following 14 towns were entirely without power Wednesday morning:
Abington
Chilmark
Cohasset
Essex
Halifax
Hamilton
Hanover
Hanson
Hingham
Holbrook
Norwell
Pembroke
Rockland
Whitman
The Massachusetts Steamship Authority suspended all services until further notice Wednesday morning, citing power issues and "extremely dangerous," travel conditions. The agency urged people not to try to go to their terminals.
Dozens of schools canceled classes. In Connecticut, power lines came down on a school bus headed to Middletown High School. No injuries were reported. Six students were on the bus, which continued its route after emergency responders removed the power lines.
In Rhode Island, authorities closed the Newport Pell and Jamestown Verrazzano Bridges amid wind gusts as high as 70 mph early Wednesday, then reopened them shortly afterward to most vehicles. School buses were still not permitted to cross.
Click here for a list of school closings.
The South Shore of Massachusetts bore the brunt of the storm and dealt with substantial power outages. Everyone in Cohasset without a generator woke up in the dark. A power pole snapped on North Main Street, which was blocked off by police.
Debris littered the roadways throughout Chatham after the storm tore down trees and branches. About half of the town was left without power, along with thousands of others on the Cape.
In West Barnstable, a woman was trapped in her car after a tree came down on top of it as she was driving on Route 6A. The car wound up on top of a live power line. Police were able to rescue her from the car safely.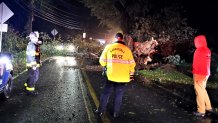 In Quincy, a section of roof was blown off of the O'Brien Towers, an apartment complex for elderly and disabled residents. No one was hurt but the building's seventh floor is now flooded.
Meanwhile, police officers and firefighters in Duxbury were handling a "very high volume," of emergency calls after about 91% of the town lost power.
Numerous trees and wires were down, police said, as wind gusts reached 65 mph near the Powder Point Bridge. The town's Department of Public Works and utility crews were out working to clear the roads.
"Use extreme caution if you need to be on the roads for any reason, the Duxbury Fire Department wrote on Twitter. "Many roads are impassable due to trees down."
The Brewster Police Department asked people to "please use extreme caution when traveling," as they dealt with multiple road closures and power outages in town.
Strong winds caused tree and utility damage in several areas, the town's police department wrote on Facebook. Road closures included: Route 6A near Ocean Edge, Route 6A near Route 124, Lower Road near Moldstead Lane and Route 6A near the Ladies Library. Eversource was aware of the situation, police said.
Power outages were also reported in Brockton, where a large tree came crashing down on power lines, making Ash Street in the area of #686 impassable. National Grid crews were on scene. Police asked people to avoid the area.
The North Shore had its share of storm damage as well. Waves came crashing over the seawall on Lynn Shore Drive in Lynn around high tide at 4 a.m. and a large tree was uprooted on Erie Street.
More on the Nor'easter Hitting Mass., New England