The first widespread snowy morning of the season did not add up to much, but it sure caused plenty of fender benders and a slow start to the work and school day.
While snowfall in Boston still has not added up to an inch, parts of Northern New England are already deep into winter.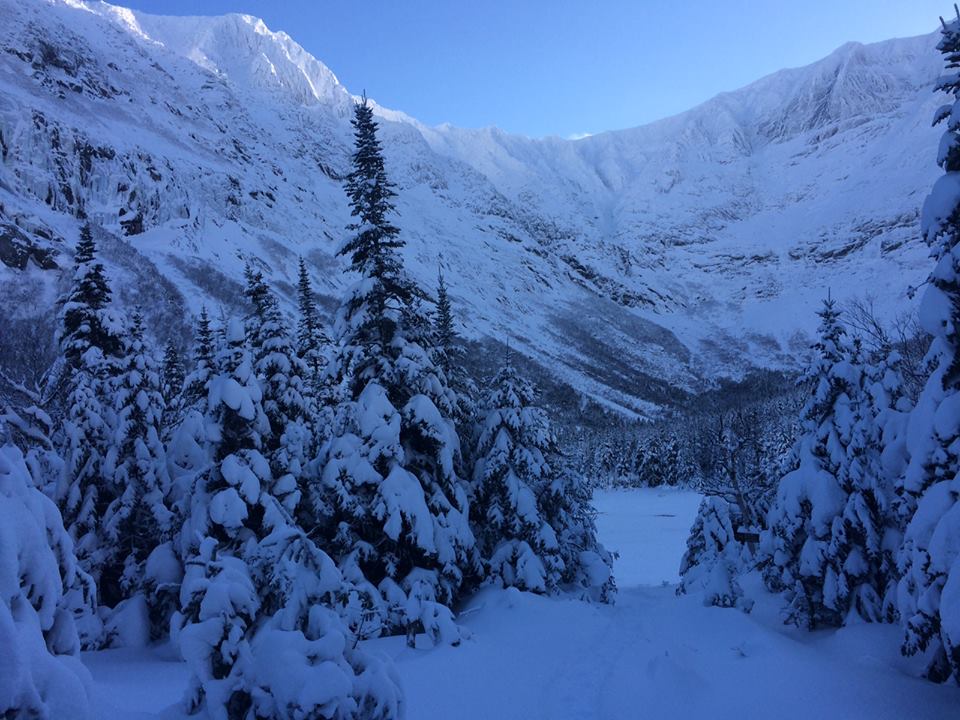 The snow-pack at Baxter State Park Maine is now 40 inches, near double any time all last winter.
In northern Vermont, snow continues to pile up Monday. The summits from Stowe to Jay picked up 20-30 inches over the weekend. At Jay Peak Resort, the seasonal snowfall passed the 100 inch mark on Sunday, already a third of the annual seasonal snowfall.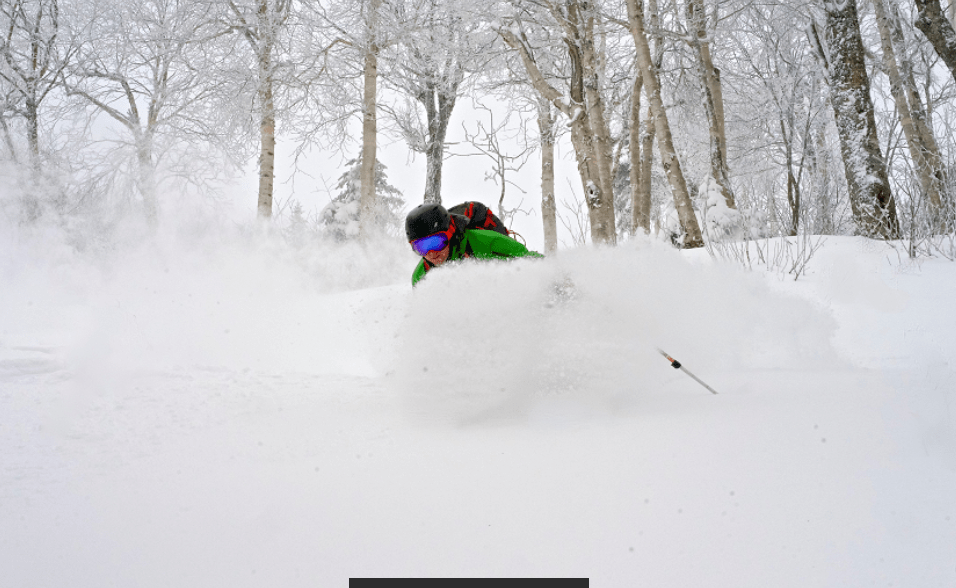 Coming off a terrible ski season last winter, snow riders are quite pleased with this turn-around.
Local
In-depth news coverage of the Greater Boston Area.
And there is more snow on the way this week. Cold, too — the ponds have begun to freeze north and will freeze south by the weekend.
Things are quieting down a bit Monday afternoon. Weak low pressure is moving east of Massachusetts and intensifying a little bit overnight.
This low-pressure system dropped a coating to an inch or two of snow away from the shore during the day. Any melting that occurs could result in some slippery side roads and sidewalks Monday evening as skies clear and temperatures cool once again.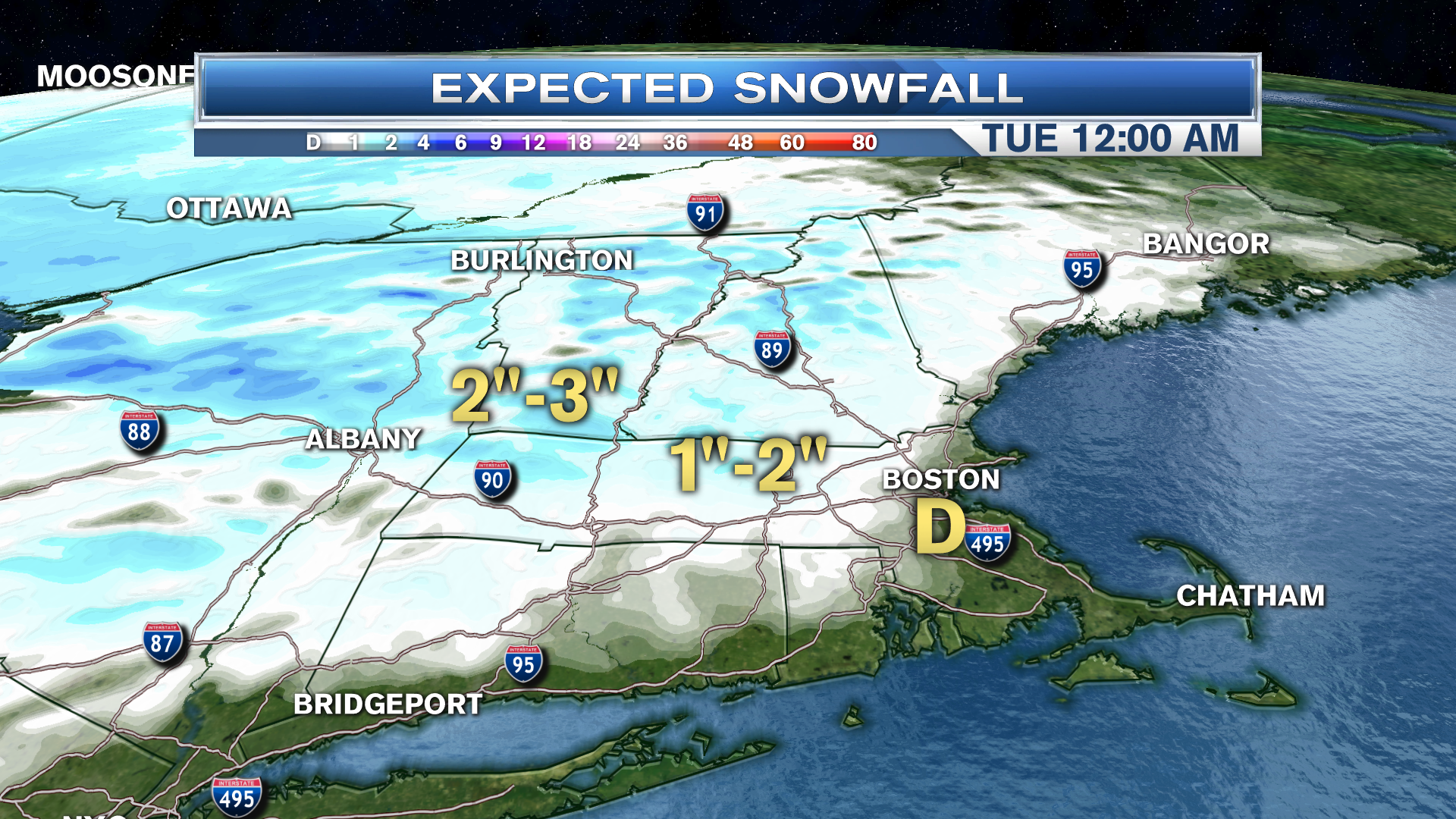 Afternoon highs are in the 30s to 40s south, and in the low 30s north.
Patchy frost and black ice are expected overnight with a low temperature in the 20s to low 30s.
Tuesday is a quiet day with partial sunshine getting the temperature to 40 or higher in southern New England, and in the 30s north.
We are in a very active weather pattern and the next system races in Tuesday night.
Very similar to Sunday night, snow inland and rain near the shore are developing for a slippery Wednesday morning commute.
The rain-snow line should be a little further north, so Boston, Providence, and Hartford may get rain instead of snow. It is another small event with one to two inches of snowfall possible in the hills.
Wednesday remains mostly cloudy with a few sprinkles south or flurries north, and high temperature in the lower 40s.
The forecast gets tricky later in the week. We're going to have two cold fronts pushing in from Canada, with the lowest temperatures so far this year here by Friday night and Saturday.
The question is, how much rain or snow will come with the front? Right now, it looks like just scattered showers of rain changing to snow on Thursday, that should end by early Friday.
One thing is for sure — it is going to get very windy and cold by Friday night and Saturday, with our first sub freezing high temperatures of the season here for the weekend.