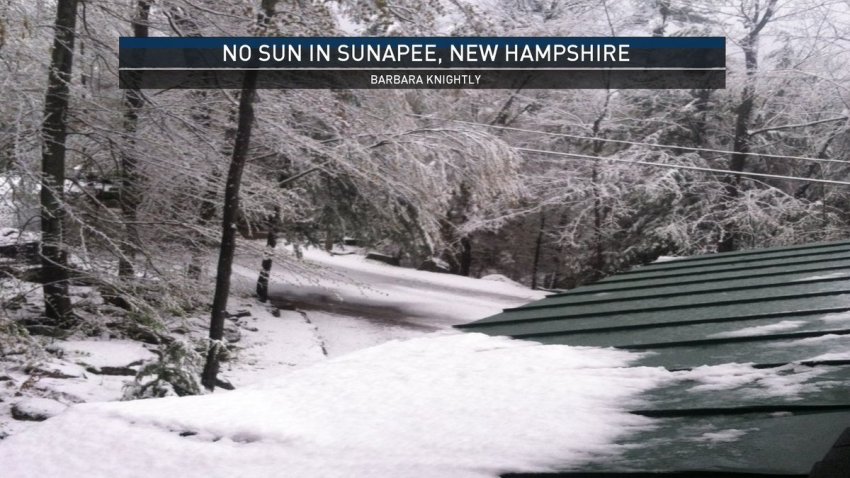 Sorry, Moms. It was NOT a very nice Mother's Day. The Nor'easter is moving like molasses just east of Cape Cod. Skies did brighten in western New England and temperatures popped into the 60s. Steady rain will make a triumphant return overnight and into Monday morning. At least with this round of precipitation, the mountains will stay as rain.
If you lived above 1,500 feet in New Hampshire, you woke up to an unwelcomed surprise. Now that the ski resorts are closed for the season, what's the point of snow in mid-May, right? Wet snow and leafs on the trees lead to power outages in the Granite State. Here are some of the totals:
Nelson, NH: 9.0"
Lempster, NH: 7.0"
Sunapee, NH: 6.0"
Hawley, MA: 4.0"
Woodford, VT: 2.5"
Upton, ME: 2.0"
Local
In-depth news coverage of the Greater Boston Area.
The highest rainfall total eclipsed 2" in coastal Rhode Island, Connecticut and Massachusetts. Winds were also gusty – up to 45 MPH. With the ground saturated it was a bit easier for trees to topple so there were some pockets of minor damage.
Unfortunately, this unwelcomed guest will stick around into Monday. Steady rain will linger into the Monday morning commute. An additional ½" of rain is likely. Showers will end Monday afternoon and skies will brighten from west to east late in the day.
Once we move past Monday, the weather will improve greatly. Temperatures by Tuesday will reach the middle 70s. Wednesday will be even warmer with high temperatures in the middle 80s (some of the normally warmer locations, like the Merrimack Valley, could reach 90°). 90° heat is a greater possibility Thursday! Widespread 90s are likely. An overnight shower and thunderstorm is possible with a weak cold front. Behind the front, it is still pleasant with temperatures in the 70s.