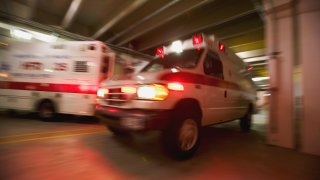 A 60-year-old man was killed after the motorycle he was riding collided with a car pulling out of its driveway on Saturday afternoon in Dudley, Massachusetts.
The accident occurred around 3:25 p.m. when a white Mercedes-Benze SE collided with a black 2005 Harley Davidson motorcycle. Police said their initial investigation showed that the Mercedes was exiting a driveway when it collided with the westbound motorcycle.
Police identified the motoryclist Monday as James Joseph Thompson of Dudley.
The driver of the car, a 17-year-old male suffered minor injuries. His name was not released.
The accident caused the road to be shut down for several hours, reopening again at around 7 p.m.
Dudley police are continuing to investigate the crash. No charges have been filed.