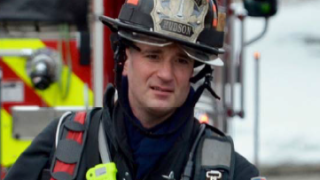 A motorcyclist who died following a crash Monday night in Hudson, New Hampshire, has been identified as a firefighter and paramedic for the town's fire department.
Hudson police and fire responded to Route 102 for a report of a crash involving a motorcycle just after 6 p.m. Monday, according to the police department. When crews got to the crash, they began treating the hurt motorcyclist, but he died on scene, according to a news release.
In a news release, the Hudson Fire Department identified the person killed as Active Duty Fire Lieutenant and Paramedic Todd J. Berube.
Investigators determined that the motorcycle, heading west, crashed into the passenger side of a Mazda sedan driving eastbound and making a left turn. The driver of the sedan wasn't hurt.
Police noted that drugs and alcohol do not appear to be factors in the crash, and also said the motorcyclist was wearing a helmet.
Berube was noted for his "dedication and pride of the fire service and for his love of his family."
"We wish to offer Todd's family, friends and coworkers our most sincere condolences as we all process this tremendous loss," the news release from Hudson fire said. "We respectfully ask for privacy for Todd's family during this difficult time. Funeral arrangements are pending and information will be provided when it is available."
A crash investigation remained underway.