Despite the blistering heat, there's still snow in one difficult-to-reach spot in New England. And where there is snow, there are skiers.
After above-average snowfall last winter, a stubborn patch of snow remained at Tuckerman Ravine on Mount Washington as of Thursday, according to Nick Brooke, a visitor services specialist for the Appalachian Mountain Club.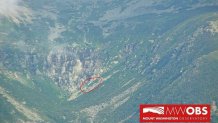 The patch of snow has some determined skiers making a difficult journey more than halfway up the Northeast's highest peak.
Those who make the three-mile hike don't expect to get great skiing in. Rather, they do it for the novelty of skiing in August.
"I was looking for a chance to get my ski boots on," says Peter Springer, 19, a New Hampshire resident who made the climb this week with a friend, each lugging their equipment for three miles.
Local
In-depth news coverage of the Greater Boston Area.
After stopping to make a few turns on the snow patch, they continued up the trail and reached the summit.
Springer, an experienced East Coast skier, said he has skied Mount Washington as late as July 4 in past years. He has never skied in August until now, he said.
Park officials who oversee that part of the mountain urge people to use common sense if they are hoping to get some August skiing in.
"Where will you end up if you fall?" said Steven Bari, public affairs coordinator for the White Mountain National Forest. "Think about your safety first."
He added: "While getting a few turns in on snow in August may be exciting, please realize you are in one of the most fragile alpine areas on the East Coast."
Located on the southeast face of Mount Washington, Tuckerman Ravine is a popular — and sometimes treacherous — spot for spring skiing.
Springer isn't alone. Thousands of adventure-seeking skiers climb the steep slopes of Tuckerman Ravine to experience one of the east coast's most thrilling challenges during the winter and spring, according to the website Time for Tuckerman.
It is also one of the most dangerous trails on the east coast because avalanches have been known to break out there. In April, a 32-year-old Campton man became the latest victim of an avalanche on Tuckerman Ravine, according to The Union Leader.
Tuckerman Ravine's 7.9-mile trail is a popular destination for those looking fior a thrill in the summer as well, according to the hike-tracking site AllTrails.
But Tuckerman Ravine Trail can be dangerous for hikers as well. In June, a 63-year-old woman from New Jersey died after suffering an unknown medical condition while hiking the trail.
The reason Mount Washington still has snow is due to the above average snowfall it got during the 2018-19 season. The 314.3 inches of snow far surpassed the average snowfall amount of 281.2 inches, according to the Mount Washington Observatory.
The snowfall, however, didn't come close to the mountain's record snowfall from the 1968-69 season, when it accumulated 566.4 inches.