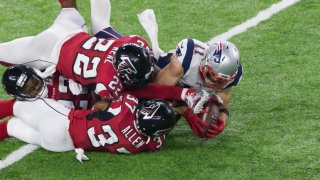 Tom Brady has moved on to win a seventh championship at Tampa Bay.
Only a handful of Atlanta players remain from that fateful night in Houston.
Yet memories of the greatest comeback — and flop — in Super Bowl history still linger, especially when the Falcons are facing the New England Patriots.
The teams meet Thursday night at Mercedes-Benz Stadium, exactly 1,747 days since the Brady-led Patriots rallied from a 28-3 deficit to beat the Falcons 34-28 in overtime at the 51st Super Bowl.
Atlanta quarterback Matt Ryan, one of only a handful of players left from the team that couldn't hold a 25-point lead, said he's long since put that miserable evening in the rearview mirror.
"I'm not worried about what happened in the winter of 2017," he said. "You can't go back and win that game."
Brady captured one more championship with the Patriots — at a Super Bowl played in Atlanta, no less — before signing in 2020 with the Buccaneers, who face the Falcons twice a year as a divisional rival.
Rubbing a bit more salt in the wound, Brady has won three more games against Atlanta with his new team.
None of that matters to Ryan, who is more concerned about these Falcons (4-5) and how poorly he played in an ugly 43-3 loss to the Dallas Cowboys last Sunday.
Nothing that happens Thursday night will have any impact on that Super Bowl from five seasons ago.
"You have to move on from it and try to do everything we can to get ourselves back to .500," Ryan said. "I really don't think it exorcises any demons or anything like that. That game is over and has been played."
After missing the playoffs last season, the Patriots finally seem to have found their footing in the post-Brady era behind rookie quarterback Mac Jones.
New England (6-4) is one of the league's hottest teams, winning four straight games and five of the past six. The Patriots are coming off their most impressive showing of the season, a 45-7 rout of the Cleveland Browns.
Just 10 games into his career, Jones has already established himself as a leader in the Patriots locker room.
"I think that just happens naturally," he said. "Really good leaders, they're themselves. They don't try to be somebody else. They just do what they are supposed to do, and they do it to the best of their ability."
Copyright AP - Associated Press