About 30,000 people are running in Monday's 126th Boston Marathon.
Among them? Three of NBC10 Boston's on air personalities.
Evening news anchor Shannon Mulaire and reporters Eli Rosenberg and Katie Brace are all running this year's marathon.
We'll bring you updates throughout the day on how they're doing.
Shannon Mulaire live tweeted her run!
Here she is after she crossed the finish line where she felt tired but good!
"I don't really have words. It's such an experience. It was long. It was a little cold toward the end...but everyone is so awesome. There was a time where I just took out my ear buds towards the end, because it was just so loud and so awesome. It feels good," Shannon said of the crowd's support near the finish line, as she got a little overcome with emotion.
Eli wasn't tweeting, but we did capture this photo of him during Monday's race, and we caught up with him after he crossed the finish line!
"Boston's back, the marathon's back," Eli proclaimed of the turnout Monday.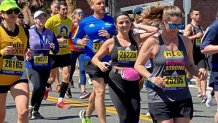 Later Monday, with a medal around his neck, Eli thanked all of the Boston Marathon volunteers, police, fire, EMS and fans for a great day in the city.
And Katie made repeated visits to see Cori, her marathon good luck charm! She also counted her dog sightings during the race -- at least until the pain distracted her.