Over four dozen people have been arrested and more than 50 guns seized following a year-long investigation into violent motorcycle gangs operating in Rhode Island, Massachusetts and Connecticut.
Rhode Island State Police said 49 people were arrested Wednesday in a series of pre-dawn raids conducted by more than 150 state, federal and local law enforcement officers. Police also seized 53 illegal handguns and a large quantity of marijuana, crack, cocaine and heroin.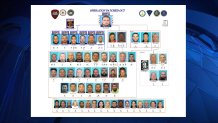 "These gang members are not recreational bikers organizing local charities," Rhode Island State Police Col. Ann Assumpico said. "These are violent criminals who belong to some of the most sinister motorcycle gangs in this country."
State police said search warrants were executed at 29 locations, including four in Massachusetts. According to police, the raids involved the use of heavily-armed SWAT team members and explosives to breach fortified buildings.
Rhode Island Attorney General Peter Kilmartin said the gangs represented "a vast and complex network of drug and gun traffickers in Rhode Island and bordering Massachusetts and Connecticut."
The investigation began last May when state police detectives received information that some of the most violent motorcycle gangs in the country were establishing local chapters in northwestern Rhode Island. They zeroed in on members of two gangs - the Pagans and Kryptmen - who were allegedly involved in gun and drug trafficking and other criminal activities.
Local
In-depth news coverage of the Greater Boston Area.
Police said the local chapters are affiliated with some of the country's most notorious biker gangs, most of which have a history of violent criminal activity including murder, kidnapping, robbery, extortion and large-scale drug trafficking.
"These gangs have been involved in numerous acts of violence, including shooting incidents that put innocent civilians at risk," Rhode Island State Police Lt. Col. Joseph Philbin said.
Using electronic surveillance and court-ordered wire taps, state police said they intercepted thousands of phone conversations and text messages, in addition to other evidence.
At one point, based on intelligence gathered during the investigation, police said detectives intercepted and arrested one of the gang members who they believe was on his way to commit a murder.
The investigation also revealed evidence of other criminal activities, including large scale gun and drug trafficking, fraudulent mortgage and bank activity and the widespread theft and sale of stolen ATVs, lawn tractors, snow blowers and other equipment.
"Today's arrests send a clear and convincing message: we will not allow motorcycle gangs and other criminals to sell guns and drugs on our streets and commit violent crimes in our communities," Assumpico said.
More than a dozen additional suspects are still being sought on arrest warrants charging them with crimes including gun and drug trafficking.
Copyright AP - Associated Press