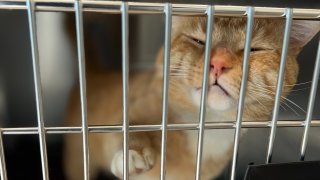 Nearly 50 cats rescued in Texas have been relocated to Massachusetts and are expected to be put up for adoption in the coming days, according to MSPCA-Angell.
The 47 cats came from the SPCA of Texas and arrived at New Bedford Regional Airport on Saturday. They were relocated as the Texas shelters prepare for what they expect to be a busy spring rescue season.
The Northeast Animal Shelter in Salem is caring for the cats. After a 48-hour quarantine period, they will be put up for adoption.
For more information or to make an appointment to meet the cats, click here.