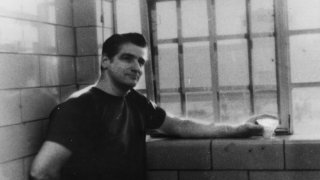 "Boston Strangler," a new true-crime movie based on the infamous killer, is set to premiere on Hulu later this year.
Here's what we know about the film so far:
'Boston Strangler' release date
On Tuesday, 20th Century Studios released the first photos from the upcoming film and announced that it will premiere on Hulu on March 17 in the U.S., on Star+ in Latin America and on Disney+ everywhere else.
According to Deadline, there will also be a companion podcast from ABC Audio released ahead of the movie. It will be hosted by former Boston Globe reporter Dick Lehr, who reported on the Boston Strangler case.
Who are the stars of 'Boston Strangler'?
The film, written and directed by Matt Ruskin and produced by Ridley Scott, stars Keira Knightley as Loretta McLaughlin, the newspaper reporter for the now defunct Boston Record-American who first connected the Boston Strangler murders from the 1960s. Carrie Coon stars as her colleague, who helps her pursue the story.
It also stars Alessandro Nivola, David Dastmalchian, Morgan Spector, Bill Camp and Chris Cooper.
"Having grown up in Boston, I had always heard of the Strangler in a very abstract sense, but I didn't really know anything about the details of the case and a few years ago, I started reading about it and discovered a really fascinating, layered serial killer story," Ruskin told Empire. "I always loved journalism stories and in researching the case, I discovered these two journalists, starting with Loretta McLaughlin, the first journalist to connect the murders, and in her reporting, she actually gave the Boston Strangler his name. It was a really monumental story for her in her career in the early 1960s. She was a very ambitious reporter in a male-dominated field and this was a real turning point for her."
What is the movie about?
Hulu's adaptation is based on the real-life story of the Boston Strangler, Albert DeSalvo.
Eleven Boston-area women between the ages of 19 and 67 were sexually assaulted and killed from 1962 to 1964, crimes that terrorized the region and grabbed national headlines. All 11 victims were strangled with articles of their own clothing; one also was stabbed repeatedly. Mary Sullivan, believed to be the last of the strangler's victims, was 19 when she was killed in January 1964, a few days after moving from Cape Cod to Boston. Newspapers initially dubbed the killer the "Phantom Fiend" or "Phantom Strangler," but the nickname Boston Strangler ultimately stuck.
DeSalvo confessed to being the strangler in 1965 while he was a patient at Bridgewater State Hospital, a state facility housing the criminally insane. But police lacked the evidence to bring him to trial for the killings. He was tried instead on a series of unrelated assaults and was convicted and sentenced to life in prison on Jan. 18, 1967. DeSalvo recanted his story not long before he was fatally stabbed in his cell at maximum-security Walpole State Prison in 1973.
DNA tests performed in 2013 on DeSalvo's exhumed remains confirmed he killed Sullivan, and investigators said he likely was responsible for the deaths of the other women — the first forensic evidence tying him to the case. But skeptics, including Sullivan's nephew, insist there were at least two killers, maybe more. They note that DeSalvo didn't match witness descriptions and was never on investigators' lists of more than 300 suspects.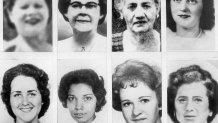 Where was 'Boston Strangler' filmed?
Parts of the film were shot in Massachusetts. The Boston Globe captured photos in December of 2021 of Coon and other actors in vintage clothing on Dwight Street in Boston's South End.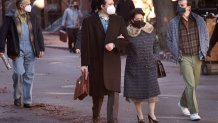 Scenes for the movie were also shot that same month in a neighborhood in Belmont and at the nearby Winn Brook Elementary School. The school was turned into a police station for the shoot.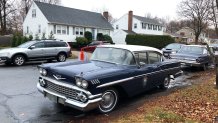 According to the Globe, filming also took place in Roxbury, Roslindale, Jamaica Plain, Braintree, Lynn and Lowell.
But wait... wasn't there already a 'Boston Strangler' movie?
Yes, in fact, there have been several adaptations of the real-life story, the most famous of them a 1968 movie of the same name directed by Richard Fleischer.
That film starred Tony Curtis, Henry Fonda and George Kennedy, and followed the investigators' path through several leads before introducing the Strangler himself. The movie was seen almost exclusively from the perspective of the investigators as they look to build their case.
The Associated Press contributed to this report.