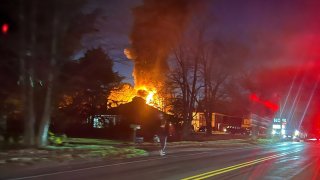 Two people who were on board a small plane were killed when it crashed into a building in Keene, New Hampshire, Friday night the city's mayor said in an update Saturday morning.
Mayor George Hansel said it was "fortunate" that no one on the ground died as well -- the plane crashed into the attached garage of a multi-family building on Main Street.
Hansel didn't provide the names of the two occupants of the plane, noting that the investigation was still in its early stages. He didn't know about how experienced the pilot was.
The Keene Police Department notified their families Friday evening in person.
The single-engine aircraft owned by Monadnock Aviation departed from Keene Dillant-Hopkins Airport shortly before the accident.
"This airport has been operating for decades safely. This is a, thankfully, very, very rare occurrence," he said, adding, "We don't expect at this time that the airport's operations … will be impacted."
The Federal Aviation Administration (FAA), New Hampshire Department of Transportation (DOT), and National Transportation Safety Board (NTSB) are on site.
Eight people reside in the four apartments in the building, and each of the units was occupied at the time of the accident.
Nobody was injured but all of were displaced.
The building sustained significant damage to an estimated 20% to the rear of the structure, and it will remain empty until it can be further assessed.
Sign up for our Breaking newsletter to get the most urgent news stories in your inbox.
A local pastor is organizing relief efforts for the families who los everything when the plane ripped through the apartment building.
Michael McCosker told NBC10 Boston that his church, Hope Chapel, is next door to the now wrecked multi-family complex and two young church leaders were residents of the building.
The pastor has set up a Gofundme for the residents after communicating with the building's landlord and learning that the families did not have renter's insurance.
"We got things we gotta do, people we need to help and we want to make Keene better", said McCosker.
The Church's goal is to raise $15,000.