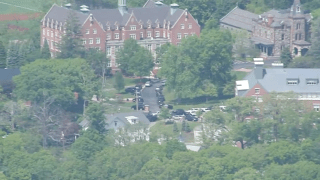 Days after an officer responding to a "swatting" call at St. John's Prep school accidentally fired his gun, causing a further scare and massive police response, the town of Danvers, Massachusetts, has offered more information about what happened.
It was an 11-year veteran of the Danvers Police Department who accidentally fired his gun, the town said Thursday. The detective was part of a team of three officers clearing a bathroom at Benjamin Hall after the hoax threat on Monday.
After the gun went off, people called 911 and more law enforcement agents flocked to the all-boys Catholic middle and high school's campus. Students and staff sheltered in place, though some fled to the woods nearby.
The incident remains under investigation, the town said Thursday. State police are working on preparing a ballistics report to supplement the report submitted by the officer, Det. Christopher Gaffney, and an internal review. The department also expects to request a review of what happened by the Essex County District Attorney's Office.
"We recognize that Monday's events at St. John's Prep caused a significant amount of fear and angst for not only those present at the Prep that day, but also to our broader community," the town's statement said. "We are confident that we can take the lessons learned from these events and work together to effect change that will further ensure the safety of our schools and community."
"Swatting" incidents are hoax calls intended to bring out police when there is no danger, and they've been increasingly common in recent years. The presence of law enforcement engaging with what could be an active threat has prompted dangerous situations in the past as well.
In Monday's incident, the detective accidentally fired his gun while holstering it as the three officers left the first-floor bathroom — a fourth officer was outside. The bullet hit the tiled bathroom floor next to his foot, the town said. No one was hurt.
The officer's index finger was along the barrel of the gun, consistent with how he was trained, but another piece of equipment interfered, according to the town. It wasn't immediately clear how it interfered.
Gaffney has been on the Danvers police criminal investigation division for nearly four years.
School was canceled for St. John's Prep students on Tuesday. The head of school, Ed Hardiman, has spoken about how taxing the incident was for some in the community.
"Some of us are going to be okay, some of us are going to be really traumatized by what happened and it's our responsibility to reach out to each other, to support each other and to care for each other," Hardiman told reporters Monday night. "This is everybody's nightmare. Every parent given the context of our culture today is concerned that things like this can happen."
More on the accidental shooting at St. John's Prep