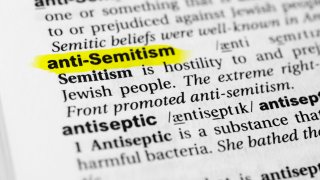 New England saw a record number of antisemitic incidents last year, according to a new report from the Anti-Defamation League.
The 204 incidents, including harassment, assault and vandalism, recorded in the advocacy group's annual audit was a 32% increase from 2021 and the highest total of incidents in New England ever, ADL New England said. Every New England state besides Vermont saw an increase.
Nationally, there was a 36% increase in antisemitic incidents from 2021 to 2022, but Maine and Massachusetts had increases that surpassed that figure — the number of incidents in Massachusetts, 152, was up 41% from 2021 and was the sixth most in the country, after New York, California, New Jersey, Florida and Texas, according to the ADL.
"The continuing increase in antisemitic incidents in the region and across the country should dispel, once and for all, the myth that antisemitism is a problem of the past," said Peggy Shukur, the interim regional director for ADL New England, in a statement.
The incidents reported in 2022 happened at a wide variety of locations in the region, according to the report, such as:
Jewish institutions and schools: 23
Non-Jewish K-12 schools: 53
College campuses: 15
Public areas (parks/streets/transit/buildings): 68
Private businesses and retail establishments: 19
Homes: 20
Earlier this month, the Anti-Defamation League reported that New England also saw an "astounding" increase in white supremacist incidents last year. While the nation saw a 38% increase in such incidents from 2021 to 2022, New England had a 96% increase.
More on antisemitism in New England