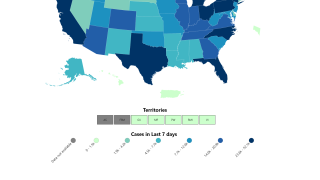 While the COVID-19 delta variant surge is abating across much of the United States, some areas are still experiencing high infection rates, and they share some things in common, according to Dr. Ashish Jha, dean of Brown University's School of Public Health.
Alaska, Montana, North Dakota and Wyoming all are reporting, more than 75 new COVID cases per 100,000 people each day, according to a chart Jha shared on Twitter Sunday. West Virginia, Idaho, Minnesota and Wisconsin were all behind them.
Jha found a trend -- they are places that are getting colder, mostly in the Great Plains and upper Midwest, and all in states with less than 65% of the population having received at least one dose of vaccine -- in fact, the top six states are under 60%.
The doctor called the combination of cold weather with lower vaccination rates "very worrisome for the months ahead."
It's getting colder in New England, too, but Jha also noted that southern New England -- Massachusetts, Connecticut and Rhode Island -- "have low levels of infection and declining! Driven by high vaccination rates and public health measures."
"Yes, there is a seasonality to COVID," he said. "But mostly, virus spreads when unvaccinated folks spend time unmasked indoors."
This summer, that was true of the South, and it'll be true in the north this Winter -- "Unless we get to high vaccination rates which are highly protective."
Nationwide, COVID infection rates have dropped 40% from the peak seen in September, Jha noted, though the rates of infection and death are still high.
As the U.S. heads into fall, vaccine booster shots are becoming available for more and more people, which will keep their immunity high -- and new treatments are being tested, like a promising pill that pharmaceutical Merck on Monday requested federal authorization to roll out.