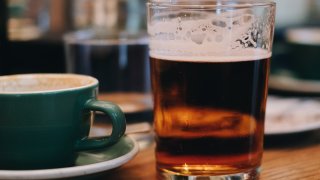 [This story first appeared on Boston Restaurant Talk.]
An Irish-themed brewery is looking to open in the southwest suburbs of Boston.
According to a source, Irish Brewing Boston is planning to open in Norwood, taking over the Percival Brewing Company space on Morse Street at the Norwood Space Center. An earlier Patch article says that the business will offer coffee in the morning and craft beer starting after noon (as well as packaged snacks), with Manager Carl Sharpley mentioning that "This is a new concept; it's the first concept of its kind....It's Irish themed, Irish-American themed."
The 5,000-square-foot space will have seating for approximately 140 and a small production area for beermaking, and the hope is that it will have outdoor seating during the summer months and a smoker--and Sharpley may also look to sell beer from breweries in Ireland and collaborate with Castle Island Brewing Company to "co-brand beers together as the Norwood breweries."
The website for Percival Brewing Company states that it is looking to reopen in another location.
The address for the upcoming Irish Brewing Boston is 83 Morse Street, Norwood, MA, 02062. Its website can be found at https://www.irishbrewingboston.com/
by Marc Hurwitz
(
Also follow us on Twitter at @hiddenboston
)
---
[A related post from our sister site (Boston's Hidden Restaurants): List of Restaurant Closings and Openings in the Boston Area]
---
Please help keep Boston Restaurant Talk and Boston's Hidden Restaurants going by making a one-time contribution or via a monthly subscription. Thanks! (Donations are non-deductible.)
Copyright Boston - Boston's Hidden Restaurants