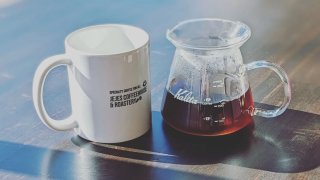 [This story first appeared on Boston Restaurant Talk.]
A new spot for coffee, baked goods, and more is on its way to the western suburbs of Boston, and it will be a kosher place.
Universal Hub is reporting (via kvhkosher.org) that Jejes Coffeehouse is planning to open in Wellesley March 8, with The Swellesley Report saying that its Kosher certification means that its offerings will be accessible to kosher/halal diners. In addition to coffee made using freshly-roasted organic fair trade beans, Jejes will also offer cookies, madeleines, muffins, and scones, along with organic tea.
The address for Jejes Coffeehouse is 259 Washington Street, Wellesley, MA, 02481. Its website will be at http://www.jejescoffeehouse.com/ while its Facebook page is at https://www.facebook.com/jejescoffeehouse/
Copyright Boston - Boston's Hidden Restaurants