As students in Medford, Massachusetts return to class for the first time Tuesday after holiday break, they'll notice some changes on Medford High School's campus.
Following a few violent incidents last year, there will be new security measures on campus, designed to keep students safer.
The situation at Medford High School has become so concerning to students that before the school went on winter break, they held a walk out to protest the violence that has been going on there.
The walk out happened two days after a student was stabbed by another student with a knife on Dec. 19.
In October, a viscous attack reportedly sent a sophomore student to the emergency room with a concussion and other injuries.
A year prior, there was another walk out protesting similar issues.
Last week, the school messaged parents and students about the new measures going into effect. Those measures include a new bathroom schedule, where certain bathrooms will be open, but most will be closed before and after school. An adult will supervise each bathroom when in use, allowing only two students in at a time.
Each student must also be wearing and displaying an ID, must eat lunch in the cafeteria, may not leave campus and will need to carry a physical hall pass when issued.
"We begin the new calendar year with a renewed sense of determination to address these issues head on," a letter from Superintendent Dr. Marice Edouard-Vincent wrote. "We are confident that the short-and-long-term steps we are putting in place will begin to transform the culture and climate of MHS."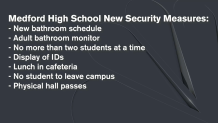 In addition to the announced security measures, the superintendent has also asked families to test for COVID-19 before sending their children to school and encouraged mask wearing for the time being.
More Medford News