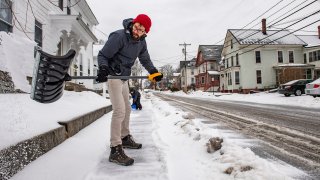 An incoming storm is expected to bring rain and snow on Thursday night into Friday, and 30 miles could determine whether you get 6 inches of snow or none at all by Friday morning.
Winter weather warnings and advisories have already been issued for parts of Massachusetts and New Hampshire, and some school closings and delays are likely Friday.
Some areas of northern New England -- including the Manchester, New Hampshire, area -- could see up to a foot of snow before it's all over. Boston is looking at totals of only about 1-2 inches, though parts of northern Massachusetts could see 4-6 inches. Southern New England should see mostly rain.
Here are the latest maps showing how much snow you can expect where you live:
Metro Boston Snowfall Totals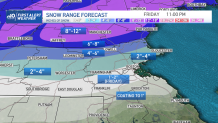 Northern Massachusetts Snowfall Totals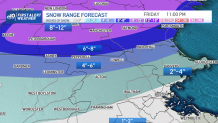 Western Massachusetts Snowfall Totals
Northern New England Snowfall Totals
10-Day Snow Forecast
Another storm is expected to arrive in the northeast on Sunday night, bringing rain to southern parts of New England but accumulating snow to northern New England.
Couple this with another storm at midweek next week -- one with a rain/snow line further south into New England -- and we could be looking at up to 2 feet of snow in ski and snowmobile areas of the North Country over the next 10 days.
Here's an early look at the 10-day snow total from our exclusive NBC Forecast System.