Mild and breezy weather on Wednesday is short-lived ahead of a cold front already slicing across New England, ready to return cool autumn air to the region.
With all of the changes in weather, you can expect a busy wind, with gusts first from the southwest, then from the northwest, up to 35 mph, as we start in the 50s, at least in Southern New England, then drop quickly late in the day.
The changing air is also bringing varying cloud cover, with some sprinkles likely during the midday through middle afternoon, before cooler air really makes its move and temperatures start falling noticeably this evening.
Overnight, skies clear and lows drop into the 20s for most with a wind chill in the teens... setting us up for a cool but bright start Thursday.
With all of the changes in weather from day-to-day, lately a pattern of cool to mild, back-and-forth, again and again, this leaves some wondering... is this normal? Should we be snowy and cold by now? The answer: our average high temperature this month has been 51.2 degrees. Our average low temperature this month has been 36.2 degrees.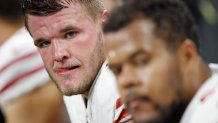 Put these together and our average overall temperature has been 43.7 degrees - or 1.25 degrees COLDER than normal! So, any idea that we are experiencing warmer than normal conditions this month is in error.
Local
In-depth news coverage of the Greater Boston Area.
What about snow? Normal snow in Boston isn't much this early in the season – Boston, on average in the last 30 years, records 1.1 inches of snow by November 29. This year we've seen only a trace.
Even Burlington, Vermont, and Caribou, Maine – some of our northernmost viewers – have seen below normal snowfall in November by about two to six inches, but again, it's early.
The normal date of the first inch of snow in Boston and Providence is Dec. 10, Worcester and Concord, New Hampshire, are November 26 and Hartford's climate recording site of Windsor Locks, Connecticut, is Dec. 2.
The next weather system will be quick to advance east from the Great Lakes Thursday, meaning sun fades to increasing clouds as the day wears on, and by evening showers of rain and Northern New England snow develop from west to east, taking root from late evening through the overnight.
Though most of New England will be warm enough for raindrops overnight Thursday night, ending Friday morning around 7 or 8 a.m, Northern New England will be cold enough to pick up one to three inches of snow accumulation, leaving Friday morning roads slippery.
By Friday afternoon, dry air returns for increasing sunshine that will prevail through Saturday. Though we're still eyeing a lot of atmospheric energy that will be moving overhead Sunday, it also still seems unlikely this energy will be able to produce much in the way of showers – but we'll continue to keep an eye out.
Next week starts seasonable until milder midweek rain showers mark the leading edge to a colder, possibly more wintry pattern by week's end in the exclusive Early Warning Weather 10-day forecast.