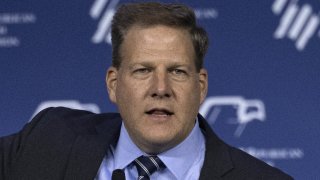 New Hampshire Gov. Chris Sununu shared a bit of positive news at his weekly COVID-19 update Wednesday, saying new cases and hospitalizations have plateaued and are even starting to trend downward over the past two weeks.
"We seem to have kind of hit a bit of a peak here, and hopefully it's on a downswing," the governor said. "I still suspect after the holidays we may see an increase in cases and potential hospitalizations, which is why we're so adamant that folks just be careful."
State health officials also announced six new cases of the omicron variant, bringing the total to nine. But unlike other states, delta remains the dominant variant in New Hampshire.
State health officials reported 983 new cases on Wednesday, and said the 7-day average remains just over 1,000. The number of active infections is just under 8,500 and the test positivity rate continues to hover around 12%. Hospitalizations have decreased to about 400.
Last week, the state had reported an 9,607 active infections and 463 hospitalizations.
"We're not out of the woods on this thing at all," Sununu said. "We've seen our case numbers and hospitalizations... maybe they're peaking, maybe they're not."
Sununu also announced that sign-ups for the state's second "booster blitz" on Jan. 8 will open on Jan. 3 at nh.gov/covid19. He said he expects 13,000 doses to be administered that day. Most of the locations will be the same as at the state's previous booster blitz, but he noted that the Stratham location is being moved to neighboring Exeter to accommodate more people.
He said six new fixed vaccination sites will be opening soon in Manchester, Nashua, Concord, Keene, Salem and Exeter. New fixed testing sites will also be added in Keene, Laconia, Lincoln and in the Berlin-Gorham area.
And he said the state will be giving out 180,000 more rapid at-home test kits starting Thursday at nh.gov/covid19.