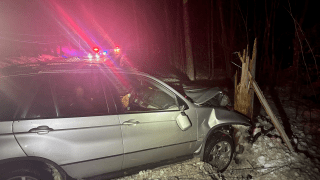 A man from Richmond, New Hampshire, was allegedly driving impaired on St. Patrick's Day when he crashed into a telephone pole, causing it to split in half, land on his car and catch fire.
New Hampshire State Police say first responders were called to Fitzwilliam Road in Richmond around 6:49 p.m. Friday for a single-vehicle crash with the driver entrapped.
With live wires down in the area, Mark Allen could not be removed from the vehicle until the power was shut off, police said.
Once the power was off, the 64-year-old was taken out of the car at which point he displayed indicators of impairment, according to police.
Allen was arrested for driving while intoxicated. He was bailed and released and is scheduled to appear in court on April 4. It was not immediately clear if he had obtained an attorney.
Anyone with information on the crash is asked to contact Trooper James Lamoureux at 603-223-3782 or Trooper Robert Stevens at 603-223-3783. An investigation is ongoing.
Eversource and the NH Department of Transportation assisted police and the Richmond Fire Department on scene.