Fans with tickets for Night 2 of Taylor Swift's Eras Tour were not going to let the pouring rain ruin their night -- after all this is New England. Wearing clear ponchos, Swifties were ready to dance in a storm in their best dress, fearless -- including Patriots quarterback Mac Jones and his girlfriend Sophie Scott.
And Taylor took notice, officially proclaiming Saturday night's concert a "rain show."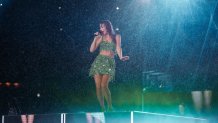 Sitting at a piano on stage with rain-soaked hair, the superstar addressed the crowd that appeared unbothered by the downpours.
"The fans and crowds in the New England, Boston, Foxboro, Massachusetts, area do not care if it rains. In fact, that kind of makes it more fun for you," Swift told the crowd as it erupted in thunderous applause. "And it makes it more fun for us because we just know that you guys are wild, you guys are just wild. You guys are up for it. And I love you so much for that, thank you."
Swift took to her Twitter account on Sunday to talk about the "full on deluge" that never let up.
"Last night we all danced together in the rain for THE ENTIRE 3.5 HOUR SHOW in foxy Foxborough MA!! We've had rain shows at Gillette Stadium before but this was a full on deluge that never let up, I just want to thank that iconic crowd!!! Love you so much you have no idea," she wrote in a tweet.
NBC10 Boston meteorologists had said heavier rain was possible Saturday evening, with another round of rain overnight.
Rainfall amounts may add up from an inch to three inches in parts of southern and central Massachusetts, with potentially higher localized amounts. The wind will also be gusting near 25 mph.
The official Gillette Stadium Twitter account wrote Saturday that they were monitoring the situation with the rain.
"All concerts are rain or shine, but if public safety officials determine storms in the immediate area pose a safety hazard, we will share instructions on sheltering options until the concert can resume," they wrote in a tweet.
"Umbrellas are not allowed inside Gillette Stadium, so be sure to bring your ponchos! 🌧" they added.
If there's a silver lining, it's that Swift's got a reputation for performing well in the rain -- including years ago at Gillette Stadium.
"12 years after Taylor Swift's 'infamous rain show' it looks like we'll have another tonight...her 12th show here in Foxboro," Gillette Stadium tweeted.
Swift's Eras Tour kicked off Friday night at Gillette Stadium in Foxboro, Massachusetts. Thousands of fans decked out in themed outfits, including TODAY's Jenna Bush Hager, were pouring into the stadium around rush hour.
"For concerts, it's a completely different group of people. Lots of them have never been here before, they don't know where they're going," Ann-Marie English said on Friday. "It's gridlock."
Taylor Swift's Gillette Stadium Outfits: See the Party, the Ballgowns
Foxboro Police had warned that the intersection of Route 1 and North Street would be closed at some point Friday due to the anticipated traffic congestion, with drivers only able to take a right turn.
Residents in town plan on hunkering down for the next few days but they say they're used to it by now.
From themed outfits to Taylor Swift cupcakes, businesses are also hoping to cash in on the crowds, having this date circled on their calendar for months, ever since the concert was first announced.
"When there's 100,000 people in town, it definitely brings an uptick in business for sure," said Union Straw general manager Craig Carreira.