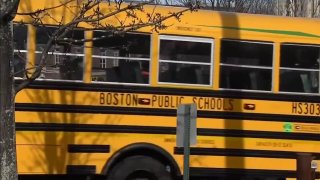 Boston Public Schools sought to tamp down "rumors" of someone opening fire on one or more local schools Friday.
The district was conducting active shooter drills near some schools in Boston, and it appeared that some people mistook them for an actual threat. Realtime Google search data Friday showed people in Boston were searching for "active shooter Boston" and for one middle school.
But BPS urged the community, "Please do not be alarmed."
School security has been a major consideration across the country since a gunman killed 19 children and two teachers at an elementary school in Uvalde, Texas, last month. It was the deadliest school shooting in a decade.
In the wake of the shooting, Boston Public Schools' principals were asked to review existing school safety plans with their faculty and staff -- the district does intruder drills with them, not students, Superintendent Brenda Cassellius said at the time.
She, police and Mayor Michelle Wu noted that there's a close partnership between school staff and the Boston Police Department.
"I have full faith in our city departments, in the amount of preparation, planning, training, coordination that goes into every single day of the year to be the most prepared that they could be for the unthinkable. But in Boston, we do not ever want to even get there to use that preparation or training," Wu said at an appearance with Cassellius.