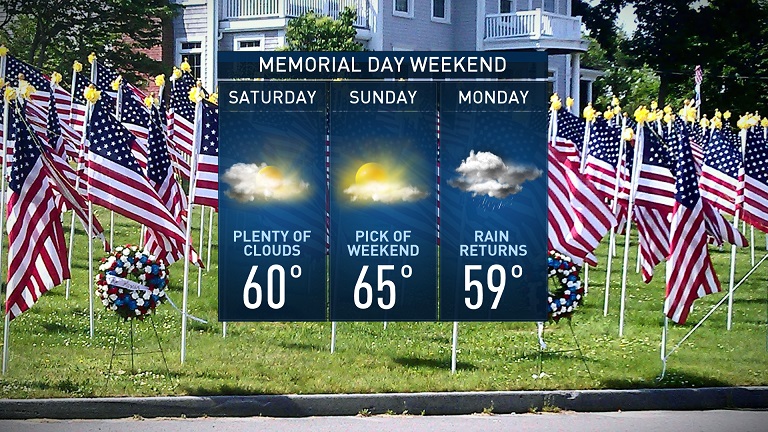 Finally it's here. The unofficial kickoff to summer.
Landscape is lush green, the bugs are buzzing, the fire pits are ready. And the forecast?
Give me a second.
Local
In-depth news coverage of the Greater Boston Area.
Still working on it.
Ok, it's not ideal. But it's better than it has been.
Saturday will be a pitched battle with the clouds. Weak high pressure won't be enough to establish total sunshine, but it may be possible to get some breaks of blue for a couple of hours.
With more dry air trickling in Sunday, our high pressure will get a helping hand. This is looking like the brightest and warmest day of the weekend. Sea breezes still keep us in the 60s along the coast/Capes/Islands, but temperatures jump to the 70s elsewhere.
Memorial Day showers us with rain again. Although it moves in early, there may still be some dry times too. Here again, onshore winds will keep us in the upper 50s to low 60s.
There seems to be a shift in the pattern next week. May actually see more than two days with sun! Highs bounce back into the 70s, which is on par for where we should be this time of year.
Enjoy the weekend, watch for pedestrians, motorcycles and bikes and relax!