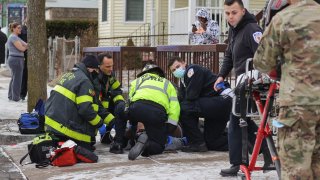 A 31-year-old man was killed in a shooting Monday morning in Revere, Massachusetts, and the suspect in his death is being held without bail, according to the Suffolk Country District Attorney's Office.
The shooting happened just before 11 a.m. on Thorton Street. Police said Monday night that 33-year-old Andre Tripp had been arrested on charges of murder and possessing a firearm without a license.
Tripp was arraigned Tuesday in the Chelsea District Court and ordered held without bail. He is next due on court on March 4.
The DA's office is investigating along with Massachusetts State Police and the Revere Police Department.
Kezia Pereira was attending a virtual class when she and her father heard the commotion outside.
"I heard a gunshot and I heard a patient screaming and yelling for help and in pain," she said.
"The first thing I did was grab some towels and ran outside, put a jacket on, put some sneakers on - I was in my PJs in class - and went and helped."
Pereira said she stepped aside as soon as police and paramedics arrived.