The Massachusetts Fire Marshal released photos of a person of interest in multiple "intentionally set" fires and a burglary in Brockton early Wednesday morning. Authorities believe the incidents are connected.
The old State House at the Brockton Fairgrounds was destroyed in a five-alarm blaze overnight, according to Fire Marshal Peter Ostroskey's office.
"It was good back in the 80s -- even into the 90s, it was nice," said Brockton resident Bob Whalen. "It's kind of crazy. I didn't expect this."
Brockton Deputy Chief Brian Nardelli initially described the historic building fire at 500 Belmont Street as "suspicious."
"I'm 92 years of age, and at this point, nothing surprises me," said George Carney, who has owned the property since the 1950s. "It's unfortunate that it happened, but that goes with life."
"It's stood here for as long as I've been alive," said his son, Chris Carney.
Three other fires broke out around the same time during the early hours of Wednesday morning.
A brush fire started at the Junior/Senior High School at 271 West Street around 1 a.m. At 1:15 a.m., Brockton Police responded to a burglary at the Sears store in the Westgate Mall. Shortly after the break-in, there was a brush fire in the D.W. Fields Park.
Additionally, a fourth fire was found Wednesday morning at Marciano Stadium, where an item was burned on the football field and damaged the artificial turf.
The outside fires and the burglary are connected, investigators said, and the Fairgrounds fire was most likely set by the same people.
Investigators released a photo of a person of interest and are asking anyone who knows the person or who has information about the fires are being asked to call the Arson Hotline at 1-800-682-9229. The Hotline is part of the Arson Watch Reward Program, which offers up to $5,000 for information that helps to solve the crime.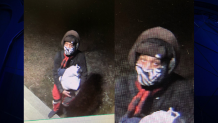 Confidential calls can also be made to the Brockton Police Department at 508-941-0200 or the Brockton Fire Department at 508 583-2933.
The fires are being jointly investigated by the Brockton Fire and Police Departments and State Police assigned to the Office of the State Fire Marshal.
No one was injured in the historic building fire Wednesday morning, but crews were challenged by the age of the structure and limited access to water while trying to douse the flames.