Brian Scalabrine heard the booming chants of "Scaaal" that erupted every time he touched the ball.
At the time, future Hall of Famers Kevin Garnett, Paul Pierce and Ray Allen ruled the roost at the TD Garden. If Scalabrine, an end-of-the-bench player, was in the game, it usually meant the Celtics were blowing out the opposition and the crowd was in a celebratory mood.
"At first it was tough," Scalabrine told NBC10 Boston. "It felt like the individual attention was put on me after the guys built a 20-point lead and really worked hard.
"But toward the end, I really started to embrace it. I went in with the idea: 'I got to give the people what they want.'"
This crowd-pleasing mentality has served Scalabrine well in his post-NBA career. Since returning to Boston in 2014 after a stint as an assistant coach for the Golden State Warriors, the gregarious redhead has become beloved for his entertaining analysis of the Celtics.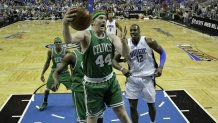 One challenge for "Scal" early on was tailoring his expert knowledge for the casual fan, and he credits Celtics legend Tommy Heinsohn with helping him strike the right balance.
Local
In-depth news coverage of the Greater Boston Area.
Since then, he hasn't looked back. When not calling games with play-by-play man Mike Gorman, Scal can be seen debating the NBA with Kyle Draper on NBC Sports Boston or co-hosting "The Starting Lineup" on SiriusXM NBA Radio.
Scalabrine spoke with us for our Ten Questions with NBC10 Boston series and discussed his career, Kevin Garnett's legendary intensity and his favorite summer hangouts.
Q. What's been the most challenging part about being in a broadcast role?
A. At the very beginning, it was very hard to simplify what I wanted to say. Then you get comfortable. I listened to Tommy Heinsohn, Mike Gorman and our producer Paul Lucey. Those guys tell me what they want from me, and they were really upfront and honest.
Tommy helped me a ton. People aren't turning on basketball to get a coaching clinic. They want to be entertained and they want to learn some stuff. Once I understood the balance... it became a little bit easier.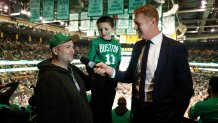 Q. So you have all this knowledge, but how do you deliver it to the layman...
A. If you say, "This team is going over the top of the pick-and-roll and creating a single-side-bump on the weak side," people are like, "What?"
You pick your times to do it. All of my lingo was a little forward, or advanced, until Brad Stevens started using it. Once he started using "single side bump action," then they allowed me to use it.
Q. You won a championship with the Celtics in 2008; in 2010 you lost in the Finals. Which had a bigger impact on you?
A. I hate to say this, but… From a professional standpoint, (it was) 2008. Winning a championship meant so much. From a personal standpoint, I'm more motivated by 2010. Just everything; the way my life is. The way that I don't take anything for granted. How close you were. Reflecting back (and thinking), "I could have done this better, I could have done that better."
I'm more shaped by 2010 than I was by 2008, even though my career, a lot my successes have been shaped by '08, versus my personality (which) has been shaped by '10.
Q. Is there really such thing as the "Celtics Way," and if so, when did you realize it?
A. Absolutely. The Celtic Way is to put all individual accolades or accomplishments to the side and do it for the team. And everyone on the team will have to make sacrifices.
I first realized the Celtic Way as soon as Kevin Garnett walked on the practice floor. That changed everything... When Garnett was here, he really embraced Celtics culture and that was the reason I think we won in 2008.
Q. What is the most intense you ever saw Garnett?
A. The confrontation when Tony Allen's headphones were too loud in the locker room. Not his music; his headphones were too loud.
(Garnett) wanted guys to be locked in and ready to go. When 60 minutes hit the clock and the clock started ticking down, he would turn into a different guy, and it would take him 15 minutes to pull out of that.
He was so serious about his craft, so serious about winning. You could not help it but to raise your level; even if you didn't want to, you had to, because he was around.
Q. Speaking of leadership, Kyrie Irving has had ups and down season in terms of, for example, his relationship with the media. What do you think it's been like for him?
A. I have no idea. Five years ago, they used to discuss which team was going to win, what team was going to the Finals. Once Kevin Durant went to the Warriors, that discussion went away. The discussion that started driving the conversation was, "Who's going where in the offseason?"
Trades used to happen because (teams) were trying to win. Now trades happen because they are trying to make room for guys in the offseason. If you are a free agent and a high-caliber player like Kyrie, you get pulled into every conversation that has nothing to do with what you're doing -- which is trying to win.
That's the disconnect between the players, who believe they have a chance to beat the Warriors, and the media, which believes that no one has a chance to beat the Warriors.
Q. Danny Ainge wore No. 44, as did you. If the Celtics hang Banner 18 in the rafters, should they retire the number?
A. Yeah, they should retire it. I'll tell everyone it's my number.
I think it should be up there. Knowing Danny, I don't think he wants it up there. Plus, he's running out of numbers (to assign to players).
Q. You're from the West Coast… what keeps you here in Boston?
A. The biggest thing about Boston is the balance of how much they love their sports, but they're not overly obsessive when they see you on the street -- they really do keep it moving. Also, the great balance of "work hard, play hard, spend time with family."
Some of my friends with kids, they push them to be great, but it's not overboard. I've lived in the New Jersey and New York area, and sometimes it can be too much.
Q. If someone you knew was coming to Boston, what would you tell them they absolutely have to do in town?
A. I think you should go to Fenway; if you're a basketball fan you should come to the TD Garden.
You know what I really am big into? New Hampshire lakes, Maine lakes, being out there in the summertime. In the winter, all I do is work. I'm big into New Hampshire, Maine, Winnipesaukee, being on the water, being with family.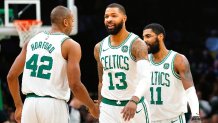 Q. What do the 2018-19 Celtics have to do to make a deep playoff run?
A. The biggest thing is they need to play with crazy pace. They need to get the ball up the floor, they need to move bodies, and they need to attack the paint. Defensively, they need to rebound the ball. When this team is good, they're getting to the line and having low turnovers.
If they can somehow do that -- and forget all the the emotion and the drama -- if they can do those things, that's their greatest way to succeed and make it to the Finals.