One Boston Day -- April 15 -- has evolved over the years, but it continues to focus on resiliency and strength as the city and commonwealth commemorate the anniversary of the 2013 Boston Marathon bombings.
There were two wreath laying events Friday at the two locations on Boylston Street where bombs were detonated nine years ago. There was also a moment of silence scheduled for 2:49 p.m., the time of the attacks. Immediately after, bells rang at the Old South Church in memory of the lives taken that day and in honor of the survivors.
Massachusetts Gov. Charlie Baker and Boston Mayor Michelle Wu posted one wreath at the spot where Boston University graduate student Lingzi Lu and 8-year-old Martin Richard, of Dorchester, were killed.
Baker and Wu then walked toward the finish line and posted a second wreath where 29-year-old Krystle Campbell, of Arlington, died.
MIT police officer Sean Collier and Boston police sergeant Dennis Simmonds also died in connection with the bombings, and they are remembered on One Boston Day, as well.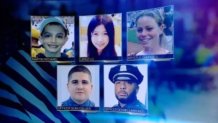 Collier was killed during the manhunt for the suspects in the days after the attack. Simmonds died almost a year later from injuries he suffered during the Watertown shootout. Their service and sacrifice are the utmost example of Boston Strong.
The Boston Police Department released a statement Friday remembering the lives lost nine years ago and their legacy which lives on today.
"In memory of Martin Richard, Lingzi Lu, Krystle Campbell, Officer Sean Collier, and Sergeant Dennis Simmonds, we remain Boston Strong as we honor those who are gone but not forgotten," the statement read.
The Boston Police Patrolmen's Association marked the day by remembering the tremendous bravery and courage displayed by officers in the days after the bombings.
"On this day and everyday, we salute all who ran towards the danger," read a BPPA tweet.
One Boston Day is both a solemn remembrance of the marathon bombings and a statement of resilience that we are all Boston Strong.
"It's always an incredible energy around the city heading into this weekend," Wu said at Friday's One Boston Day events. "Today is a day of excitement and coming together but also the weight of what this moment means to so many in our community."
Sign up for our Breaking newsletter to get the most urgent news stories in your inbox.
And not just to those here in Massachusetts, but also to those visiting Boston.
"The memory makes your heart hurt but when you see the turn out, when you see what happened in the wake of disaster, it's amazing," said Doug Martin, who is visiting from Oregon.
"And folks who gave so much on Marathon Monday -- from first responders to the families who lost loved ones -- and I think it's a really nice way, particularly as we think about first responders, a nice way to particularly honor them," Riley Martin added.
After the ceremonies Friday, Baker and Wu spoke with family of some of the victims. Baker said he has been very impressed with how they have stepped up, and how many who were hurt have come back to run the marathon.
"Running on Monday is particularly meaningful I think for all of us," Baker said. "They're going to get a roar from one end of the race to the other for those folks when they go by. Boston Strong. Boston Strong. Exactly."
People were also asked to do four acts of kindness on One Boston Day, including supporting a small business or restaurant, buying someone a cup of coffee or donating to a local organization. For those needing some inspiration, the city created a list of 15 suggested good deeds to choose from. More than 280,000 people made that pledge this year.
"One Boston Day is our opportunity to stand together in service to and in solidarity with others, showcasing what makes Boston so special," said Wu, who helped cleanup the sensory garden for the Carter School on Friday morning.
There was also a One Boston Day blood drive at Big Night Live on Causeway Street on Friday morning.
Those who participated in any event were encouraged to share their acts of kindness on social media by using the hashtag #OneBostonDay.
From the Red Sox to the Patriots, the city's sport teams also marked the day, commenting on the resiliency, generosity and strength of the people of Boston.
In honor of the youngest victim of the marathon bombings, The Martin Richard Foundation, formed by Martin's parents, shared a picture of the little boy on Friday wearing a Red Sox uniform, writing, "Today, especially, we remember Martin's kind heart, his loyalty to friends and family, and his love for the Boston Red Sox and Opening Day at Fenway Park."