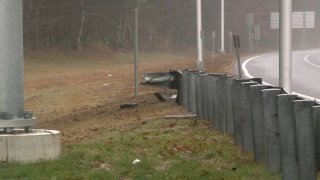 A Massachusetts man has died following a crash on New Year's Eve in Rhode Island, state police announced.
The vehicle was traveling Saturday morning on Interstate 95 northbound, south of Kingstown Road, in Richmond, when it crashed, according to authorities.
Witnesses say the car was driving erratically and crashed into a high speed barrier on the left side then veered to the right side of the highway striking the guard rail and rolling over, police said.
The 43-year-old man was transported to Kent County Hospital where he died as a result of his injuries, police said. He has been identified as Eric S. Qualey, of Cambridge, Mass.
No other information was available, including what caused the fatal wreck.
An investigation is ongoing.