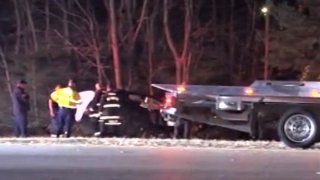 One person died and another person suffered serious injuries in a car crash early Thursday morning on Route 3 in Weymouth, Massachusetts.
The two people were trapped in the car after it veered off the road and into the woods around 2 a.m., Massachusetts State Police said.
The driver, later identified as Michael Spinola, 29 of Scituate, was pronounced dead on scene. The passenger, a 28-year-old man from Scituate, was rushed to South Shore Hospital with life-threatening injuries. 
The left and right travel lanes were closed and traffic was continuing in the break down lane. After two hours of investigating and clean up, the car was removed from the wood line and towed way. All lanes were then reopened. 
The cause of the crash remains under investigation by Massachusetts State Police. Troopers were also assisted on scene by the Weymouth Fire Department and MassDOT.  
More Massachusetts Stories