The Ice Castles in New Hampshire, which had been scheduled to open for the winter this week, won't be able to open until later in the season due to the warm temperatures.
"The opening date has been pushed back due to the weather," Melissa Smuzynski, a spokesperson for the Ice Castles, said in an email to NBC10 Boston on Tuesday. "We are now targeting the end of January or early February."
The tentative opening date had been this Thursday, Jan. 19, which was already later than the attraction opened last year.
Ice Castles posted an image on Facebook last week showing that there was still a ways to go before the attraction would be ready to welcome the public.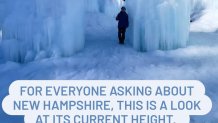 Anyone who purchased tickets for the impacted dates has been notified, Smuzynski said, and have been given the option to rebook for a later date or receive a refund.
The attraction announced in October that it would return for a 10th season in North Woodstock. It has typically opened in mid-January and remained open until early March.
"Winter is such a magical time of year," Ice Castles CEO Kyle Standifird said in a statement at the time. "We're honored to be celebrating our 10th year in New Hampshire and have some fun new discoveries and surprises in store for our guests of all ages."
How to buy tickets to the New Hampshire Ice Castles
Tickets went on sale Nov. 28 at icecastles.com. Friday and Saturday general admission tickets are $29, while children ages 4 to 11 are $22. Weekday pricing is slightly cheaper, at $20 for general admission and $15 for kids. You can also book the "Arctic Alcove," a private, secluded experience away from the crowds for up to six guests.
What to expect at the Ice Castles
The annual winter attraction, which draws tens of thousands of visitors each year, features ice slides, crawl spaces, caves and fountains illuminated at night. There is also a snow tubing hill, a forest walk, horse-drawn sleigh rides and a new ice sculpture garden and an illuminated winter fairy village this winter. This year, there will also be an ice bar.
The New Hampshire Ice Castles are one of five across the U.S. The others are in Midway, Utah; Brighton, Minnesota; Lake George, New York; and Lake Geneva, Wisconsin.
More about the New Hampshire Ice Castles