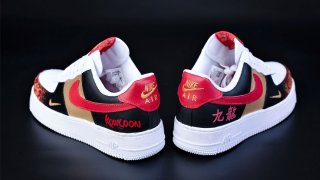 The owners of the Kowloon have put a whole new spin on dine and dash.
The iconic Route 1 restaurant in Saugus is selling a limited number of hand-painted Nike sneakers that show off the Kowloon's gold, red and black logo.
Available now on the restaurant's website, the Air Force Ones have an intricate red pattern on the tip and the restaurant's name on the back. The design is airbrushed by local artist Sway, of Blueswaydshoes for each of the 100 pairs being made — with new editions to come.
"We came up with the idea as a fun way to raise money for different charities," Kowloon owner Bobby Wong said in a statement. "The Kowloon sneaker is the first in a series with more series to come. We are working with various local charities and will feature their logo on future sneakers with proceeds going to the charity."
The shoes are listed for $495, with a $20 shipping and handling fee. It'll take about four weeks for delivery, and the restaurant will call to confirm the size.