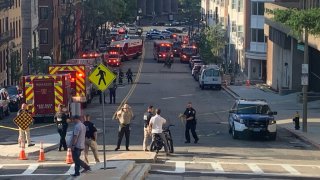 Eversource on Thursday was cited by federal investigators for five workplace violations over an underground transformer explosion in Boston this summer that's turned deadly.
One of the two utility company workers hurt in the July 12 incident has died, the Occupational Safety and Health Administration said in a statement, which Eversource confirmed. The company identified the worker as Fabio Pires and said he died in October.
"We remain deeply saddened by the passing of our colleague Fabio Pires following the tragic incident in Downtown Boston last summer. Safety is the most fundamental aspect of our everyday focus to provide reliable energy service, and we always strive to lead by example in accordance with industry best practices," Eversource spokeswoman Caroline Pretyman said in a statement.
OSHA, which was investigating what happened as an industrial accident, said Thursday that it found Eversource didn't follow the electrical equipment's instructions during its maintenance, underestimated how much heat would be generated by an electrical explosion and didn't provide its employees proper training.
"Eversource could have prevented this arc flash and blast - and its tragic outcome - by ensuring effective and necessary training, procedures and work practices were provided and followed," said OSHA Area Director James Mulligan in a statement. "The company knew the hazards related to this type of high voltage equipment, yet it failed to safeguard its employees as the law requires."
Pretyman said Eversource disagrees with some of OSHA's conclusions but shares "a determination in learning from what happened to prevent future tragedies and will continue to respond accordingly as this process becomes final," and added that the company will work continue working to improve safety measures for its workers and the public.
The explosion took place about 6 p.m. on Bowdoin Street — steps from the state capital — while Eversource workers were performing routine maintenance in an underground electrical vault, fire officials have previously said. The injured workers were able to get out of the vault under their own power.
Officials had previously only said that two workers were hurt, one severely.
Eversource said in an update a day after the explosion that both employees were being treated at Massachusetts General Hospital, one for severe injuries caused by the equipment flash and the other for smoke inhalation.
"The safety of our employees is always our priority," an Eversource spokesperson said in a statement at the time, noting that their team is also investigating. "Our focus remains on supporting both of our employees and their families... We also want to thank the local first responders from Boston for their quick response and action at the scene last night."
According to OSHA, the worker who was severely burned later died. The explosion — referred to as an arc flash and blast — took place when that employee set electrical equipment that they were working on in the underground vault back into place, the agency said.
Eversource has been cited with five violations, two of them willful and three serious, that total $333,560 in proposed penalties, according to OSHA.
The utility company has 15 business days to comply with the violations or respond, OSHA said.
More on the Beacon Hill explosion