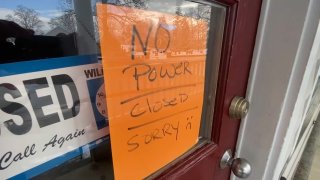 Over 50,000 customers across New England were still without electricity on Tuesday afternoon as residents continued to dig out from the previous day's storm.
Over 30,000 New Hampshire residents were still without power as of 3:30 p.m. Eversource was reporting 28,791 outages, New Hampshire Electric Co-op another 1,728 and Unitil 390.
Central Maine Power reported another 16,623 customers without power, and Vermont's Green Mountain Power 1,105. Fewer than 100 people were without power in Connecticut and Rhode Island combined.
In Massachusetts, nearly 9,000 customers were still without electricity as of 3:30. More than half of the towns of Warwick, Wendell and New Salem had no power.
The town of Harvard, Massachusetts, alone had 871 customers without power, which is about 36% of the town. That's a significant improvement from the situation earlier in the day.
"Most of the town lost it last night," one Harvard resident said.
Trees and power lines were down across town.
"Up the street, we had a live wire that was downed," another woman said. "Amazingly, that didn't knock us out."
Generators were running and many businesses were still closed because they don't have power. The lack of electricity even kept the town from opening a shelter.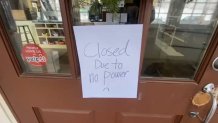 Harvard Fire Chief Rick Sickard said much of the community's critical infrastructure is still offline, including water and sewer.
"Both fire stations are on back up generator right now," he said. "We have an over-50 community building that has no power, no backup generator. We have lots of priorities that need to be powered and I'm getting no answers from National Grid."
National Grid crews were spotted around town on Tuesday, and most streets had been cleared of debris by mid-afternoon.
But power was still hard to come by.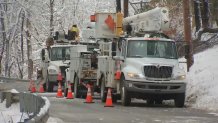 "It's frustrating," another resident said. "There's not really much you can do. And I worked home, so I had to take a work day off."
Electric crews were working to get power restored across the region ahead of another storm that is expected to arrive on Wednesday.