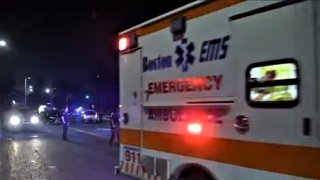 A woman who was shot Tuesday night near the Roxbury - Dorchester line in Boston is expected to survive, police say.
Police were alerted to shots fired just after 11:30 p.m. Tuesday at 131 Dale St., 15 rounds at 150 MLK Blvd. A call also came in around the same time for shots fired.
Police found a firearm and ballistics, which were recovered from various places in Washington Park. It was initially reported that there were two shooting victims, but that was later revised to one shooting victim, whose injuries are not life-threating.
Evidence markers could be seen in the area of Washington Street near Crispus Attucks Place. At least one car was towed from the area.
No further information was immediately available.