Chad Henne hit Keelan Cole on a 97-yard touchdown pass, Corey Grant scored on a 79-yard run and the Jacksonville Jaguars feasted on a Patriots lineup without Tom Brady and Rob Gronkowski — or much defense at all — to beat the defending NFL champions 31-24 on Thursday night in their exhibition opener.
With the reigning Super Bowl MVP sitting out, Jimmy Garoppolo completed a Brady-like 22 of 28 passes for 235 yards and two touchdowns. The Patriots' heir apparent completed 13 straight passes at one point, finding Austin Carr on a 3-yard touchdown pass at the end of the first half and then K.J. Maye from 5 yards out to start the second and make it 17-17.
But the New England defense followed by giving up another one-play scoring drive — this one Grant's run down the left sideline to make it 24-17. Third-string QB Brandon Allen hit Dede Westbrook from 42 yards out — victimizing Patriots cornerback Cyrus Jones for another big play — to make it a two-touchdown game.
Grant ran for 120 yards on eight carries, and No. 4 overall draft pick Leonard Fournette ran nine times for 31 yards and a 1-yard touchdown for the Jaguars, who were playing their first game under new coach Doug Marrone after firing Gus Bradley following a 3-13 record.
Executive vice president of football operations Tom Coughlin, the former New York Giants coach who twice beat the Patriots in the Super Bowl, watched from the press level.
Jaguars starter Blake Bortles completed 3 of 5 passes for 16 yards in two offensive series that resulted in one field goal. Henne came on with one play left in the first quarter and went 5 of 6 for 139 yards.
Patriots third-stringer Jacoby Brissett was 8 of 13 for 88 yards. He had a chance to tie or win the game with just over a minute left, but desperation passes sailed out of the back of the end zone on the final two plays of the game.
Local
In-depth news coverage of the Greater Boston Area.
INJURIES
Jaguars: Backup S Peyton Thompson left the game in the first half with a right biceps strain.
Patriots: DL Deatrich Wise left with a head injury in the first half.
SPECIAL GUESTS
NFL Commissioner Roger Goodell attended the game — his first visit to Gillette Stadium since suspending Brady for four games in the scandal that came to be known as "Deflategate." Widely resented by New England fans, Goodell was spotted in Patriots owner Robert Kraft's luxury box at the start of the game.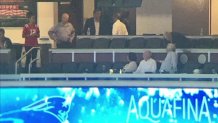 SPECIAL TEAMS
After struggling in 2016 on special teams, the Jaguars hired Joe DeCamillis and brought in several specialists. Rashad Greene Sr. had a 41-yard punt return.
KICKING WOES
Jacksonville's Jason Myers missed field goals from 53 and 50 yards. New England's Stephen Gostkowski missed one from 56 yards.