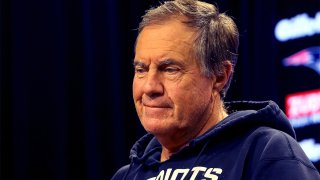 In one of the most anticipated drafts in team history, the Patriots decided the first round wasn't worth it.
New England dealt its first-round pick, No. 23 overall, to the Chargers in exchange for a second-round pick (37th overall) and a third-round pick (71st overall) in the draft over the weekend. Los Angeles used the pick to select linebacker Kenneth Murray out of Oklahoma.
"Certainly, like most situations in years past, we're always ready to pick," Patriots Director of Player Personnel Nick Caserio said afterward. "It was a situation where we thought that the trade made sense, so it puts us in a position picking the top of the second round tomorrow with four thirds. We still have some picks there at the end, the two fourths, the four sixths and the one seventh. We'll see how it all works out here tomorrow."
The Patriots now have 13 picks scheduled over the rest of the draft, including four in the third round. By trading for the Chargers' second-round pick, New England recouped a draft pick it surrendered in the Mohamed Sanu trade with the Falcons last year.
"It just gives us some flexibility," Caserio said. "You can move around in the middle there a little bit. Late-round pick is a late-round pick. You look at them all together, you basically have 12 picks in five rounds, so we'll see. Like I said, we're going to look at what's left, then kind of recalibrate, move around a little bit. We certainly have the ammunition, the flexibility to do so."
Since Bill Belichick became the coach of the Patriots in 2000, they've gone without a pick in the first round five times prior to this season.
The Patriots selected N'Keal Harry with the 32nd overall pick in the first round last season.
Dont'a Hightower and Chandler Jones, drafted in 2012, are the last two first round picks of the Patriots to make a Pro Bowl.
Local
In-depth news coverage of the Greater Boston Area.
New England did get some good news Thursday night, when center David Andrews announced he's been cleared to play after missing the entire 2019 season due to blood clots in his lungs.